Got Church Space? Making it Work for Your Ministry Style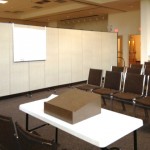 During the last decade, where and how churches minister has changed a great deal, and for many, it has changed dramatically.  For many, the building itself is not the church but rather a tool used to support the important work of the church, so when they're bursting at the seams and church space is tight, it makes sense to just move.  Still, others prefer to rehab their current buildings or reuse their existing church space differently, as their ministry needs grow and change.  But for most churches, one element remains constant; stretching every last dollar to meet their ever-increasing costs.  Whether it's the high cost of utilities, adding new ministry services, or having to upgrade an aging building, the economy has caused many churches to review how they use their church space to best serve their mission.
Growth – It's a good problem to have, right?
With the trend leaning toward larger and more contemporary church services, how and where they deliver their services has evolved.  Some have found that the size or traditional layout of their church building no longer meets the needs of the congregation and they decide to move to a new or larger facility or to expand their current structure.
Some congregations have found large and affordable church space in industrial parks or in the shells of former Big Box stores and others build new facilities with expansive open floor plans.  These locations can meet immediate space needs, but eventually many discover they lack intimacy as well as the ability to effectively section off separate spaces for worship, fellowship, and children's programs.
Other churches struggle with finding ways to increase the size of their sanctuary to make their services more participatory and thus create the "experience' desired by today's modern churchgoers.   Not all organizations can afford to build new or relocate.   For those, it may just be that the age or condition of their existing building which requires them to consider whether to renovate or recycle their church space.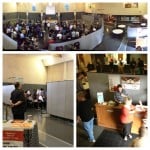 Screenflex portable room dividers can help clients lower a large room's footprint and give a sense of intimacy to the space.  As you can see, for others our room dividers have allowed them to transform their gymnasium into a worship space while their sanctuary undergoes renovation.
Because our room dividers are so portable and can quickly move to anywhere in your facility, they can always be creatively purposed as display walls, sound barriers, VBS backdrops, and Sunday School classrooms.  When not in use they transport and store compactly and fit through any standard doorway.  But most importantly, our dividers will help you increase your revenue streams by allowing you to use your spaces for multiple purposes.   Fellowship halls are easily dressed up and transformed for occasions such as parties, receptions or showers.  The high-quality durable construction of our room dividers and the extended warranty means they will be a part of your facility for years to come.
For some, newer or bigger is not always a better church space
For other organizations, perhaps how they wish to present their message and their traditional building works for them, but providing more ministry services is an issue.   In this case, it is always less expensive to renovate than build new, and it's even more cost-effective to recycle your existing church space.   Our Screenflex customers are thriving in their older or traditional settings by using our products to create functional ministry spaces that meet their space needs.  As an aside, if you're looking to free up some space in your church by disposing of used resources but don't know how to do it,  I found this nifty site while surfing the internet  Recycled Church.
Big or small, new or old, traditional or contemporary, Screenflex has you covered!
In addition to changing ministry styles, the economy has caused churches to rethink how they use their church space to serve their ministry and offer other services. Our room divider products help you do more with what you already have by using your current space more effectively.  To help you, Screenflex gladly offers every client our free, Custom Floor Plan Service which will show you the options available to maximize your space and how best to use it, all while staying within your budget.  Call us today and see how Screenflex can help you find the space that works for you!
People who read this article, also enjoyed:
Room Dividers
Partition Walls