Preschool Room Dividers Make Great Art Displays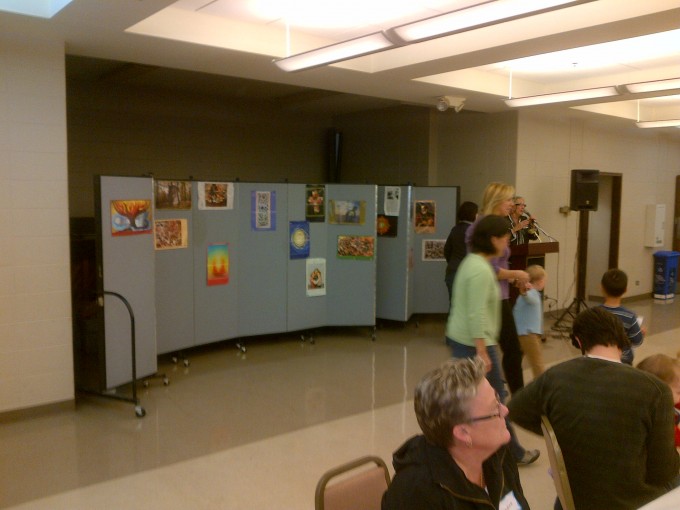 Preschool Room Dividers are perfect for displaying your students' artwork, hiding chairs and tables, dividing a room in half and much more! This is a great story about how one room divider is used in a preschool to complete two objectives.
At the First United Nursery School in Oak Park, Illinois, preschoolers have fun eating ice cream and socializing while parents enjoy looking at their kid's artwork posted on Screenflex Room Dividers. This is a great social event the whole family can enjoy. The preschool room is used as both a classroom as well as a storage area for tables, chairs and other miscellaneous items. As you can see in the photo, before Screenflex, stored items were in the open and part of the room. After the Screenflex divider is pulled across, the classroom is much more attractive providing a safer area for the kids as well as a nice spot for artwork and teaching materials.
Preschool room dividers are flexible and can suit to fit any situation. Open each panel for a straight wall. Bend back one, two or more panels for a shorter wall. You can even latch dividers together for a continuous wall.
For more examples of how you can set up room dividers in your preschool, church or daycare, take a look at photos and videos found in our photo gallery section of our website.
People who read this article, also enjoyed:
Room Dividers
Partition Walls