The desire for versatile furniture is a need in today's interior design.  We push the limits on what our office, education, and church space can provide us.  In doing so, we need furniture in our facilities that allow us to achieve multiple goals within our space.  Furnishings that will adapt to the changing uses and needs of the area.  Screenflex Portable Room Dividers offer more privacy, sound reduction, and display surfaces for many environments.  Screenflex portable tackable walls are non-abrasive and provide bulletin board functionality while maintaining a modern appearance.
What is a Tackable Surface?
Like a bulletin board, you can pin, staple, or tack items directly onto the Screenflex tackable wall surface. Their superior tackability is because of the room divider's unique design and construction.  Screenflex partitions are a 3/4-inch-thick panel made out of a closed-cell honeycomb core layered with environmentally-friendly fiberglass facing and covered with stitch-bonded polyester fabric. These fabric-wrapped tackable walls provide the superior acoustical performance you expect from Screenflex.
Key Elements to Screenflex Tackable Fabric:
100% recycled polyester fabric
Smooth and weave patterns available
Fire-rated-ASTM-E84 CLASS 1 (UL 723, UBC 8-1, NFPA 255)
Extremely resilient and impact resistant
Ways to Use Your Tackable Walls:
Display Materials
Showcase Artwork
Post Important Information
Exhibit Educational Items
Features Student Classwork
Colors Available: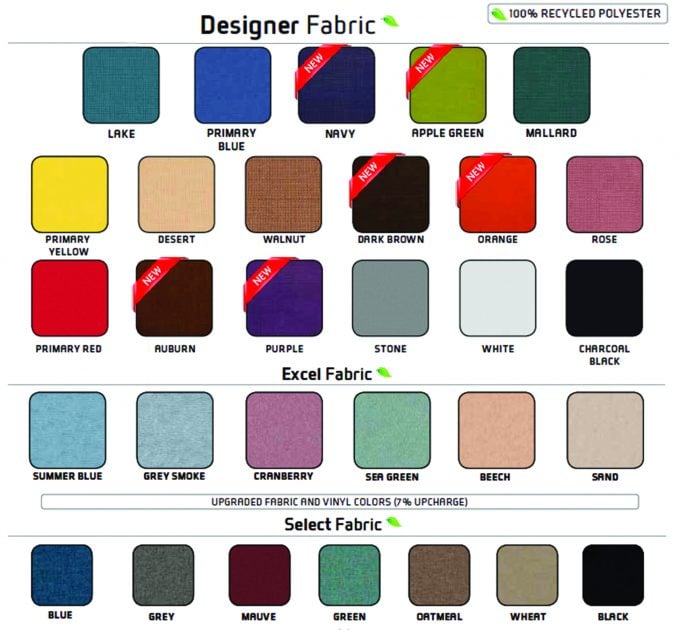 View large color swatches here.
Applications for Tackable Fabric Wall Panels:
Conference rooms
Classrooms
Offices
Lobbies and corridors
Healthcare facilities
Tackable feature included in the following products: Standard Room Dividers, WALLmount, Heavy Duty, Dry Erase/Tackable, Display Tower, GSA Dividers, Healthflex, FlexFit Divider, Acoustical Wall Panels, Study Carrels, Light Duty
People who read this article, also enjoyed:
Room Dividers
Partition Walls