Will My Room Dividers Fit Between Any Length Wall?
Screenflex FREEstanding Room Dividers
In this video, Steve and Monica show how FREEstanding Room Dividers can accommodate any length you want. Even in a restricted space, your Screenflex Room Dividers can adjust to your needs. Roll your closed divider into place, unlock the safety storage latch and place your room divider right where you need it. If your divider is a bit too long, bend back a panel to shorten it to any length desired. Screenflex offers room dividers in six lengths from 5′ – 9″ up to 24′ – 1″. Your divider will adjust to any length in between. We also offer 6 different heights to choose from. From 4′ to 8′ tall, pick a height that is right for you.
Video Transcript:
Hi, I'm Steve and this is Monica from Screenflex. I'm going to show you how to use the divider in a confined space. the distance between our two cabinets in our conference room here is 15′ – 4″. Our room dividers come in 6 standard lengths, and none of them come in 15′ 4″. The length between the cabinets are between the 13′ 1″ and  16′ 9″. The trick is to use the next size longer, in this case the 16′ 9″. Expand the divider open, and we'll put a kink in the divider. There you see with a small bend, the divider will fit the space quite comfortably. Obviously these dividers will accommodate any size width that you need between 13′ 1″ and 16′ 9″. Thank you!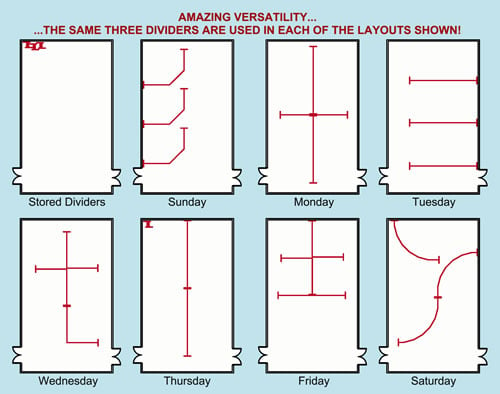 For more information about our portable room dividers, call 1-800-553-0110 or visit us on the web at www.screenflex.com.
People who read this article, also enjoyed:
Room Dividers
Partition Walls