A Stand Up Privacy Screen Steals the Show
A Movable Privacy Screen Is Just What They Needed
At Screenflex, we share stories showing the myriad ways people use our dividers. But in this case, both of these customers blew away anything we could say!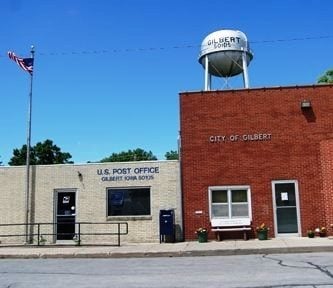 Teri Gallahan, a council member from the City of Gilbert, Iowa found us through a Google search. Their need was at their newly opened Red Buchman Community Center.
After working with Kim St. Clair, one of our Screenflex sales consultants, she ordered an 11 panel (6.8H X 20.5L) unit.  She chose a neutral fabric from our standard fabric line. Afterward, she told us…
"We needed to hide racks of chairs and tables in our community center. It was cheaper than building an enclosed space. And if we use all the tables and chairs, the stand up privacy screen can just be pushed against the wall and we don't lose any room space."
That was smart thinking on their part! When you have a small space and you need every inch of space, creating temporary walls that can easily be moved out of the way, is the best way to go, and it's a perfect fit!
Training Air Wing FIVE Supply Technician Gary Anctil recently purchased a CFSL809 (8′ X 16'L, in gray, and told us,
"Here, at Training Air Wing FIVE, NAS Whiting Field, Milton, FL, we train aviation students from the Navy, Marine Corps, Coast Guard, Air Force, and a few International Students as well. The Screenflex Dividers we purchased, separate our T6B Texan II Aircraft Simulators from each other, as well as the cubicle briefing spaces."
He went on to tell us,
The reason we love the dividers, is their complete functionality.  hey are very tall, sound-proof and moveable. This way, when a simulator requires maintenance or attention, or there are computer issues within the briefing spaces, the Screenflex dividers can be moved so as to not be in the way while performing said maintenance.
Wow! Just reading that makes me want to stand up and salute!  We are glad we are able to offer the temporary walls needed for such important training. Gary also told us that he was glad that the order and delivery were such a breeze.
Flexibility is just another reason that using Screenflex room dividers makes perfect sense when you need to create or divide a space. Because you want your divider to stand up, privacy screens by Screenflex are the way to go. With 36 sizes and 38 colors, you're sure to just what you need.
And if you're not sure, we offer free, no-obligation consultations and professionally prepared space plans.
If your need can be solved by adding temporary walls, call or email one of our sales consultants today, and discover the custom solution to fit your need!
People who read this article, also enjoyed:
Room Dividers
Partition Walls