Screenflex Room Dividers With Doors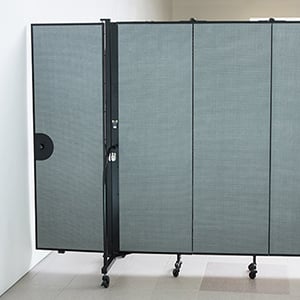 When it comes to creating rooms within a facility with temporary walls, fire hazards are an essential concern to consider. For this reason, portable walls still need an accessible walkway to prevent any hazards from occurring. When our customers need an easy entryway/exit from their temporary rooms, Screenflex offers doors as an option with their dividers.
How does the Screenflex Door Option work?
The door option that Screenflex offers attaches to the end of a partition. Since people will need to go in both directions through this walkway, the door swivels up to 180 degrees. This creates a safe and easy walkway no matter which direction you are coming from. The door also safely stays open with an industrial magnet, so it doesn't swing back when members of your community aren't paying attention to it.
How big is the Screenflex Door Panel?
The Screenflex Door Panel adds twenty-four inches in length to any divider. The wall height varies depending on how tall the rest of the partition is. The door will be customized to match the rest of the divider in its height and color
Can you add a door to an existing divider?
Our door panel option can be added to any Screenflex room divider, including the ones you have already purchased separately. The door ships ready to attach, complete with a frame, hinges, and latches. With easy-to-follow installation steps, the Screenflex door is ready to use within minutes. As shown above, for a "double door" entrance to the temporary space, you can easily use your door panel as the connecting point between two dividers. This will give the extra space necessary for large groups and foot traffic.
When does it make sense to add the door option?
Adding the Screenflex door panel to your portable partition makes the most sense when you plan to keep the screen in one place most of the time. Essentially, if you want to keep the shape of the room you've created but have no walkway through the wall, you might want to add a door.
Some examples include construction sites, classroom division, or weekly bible study space. All of these situations require this new space on a semi-permanent basis. Any time you have to close the divider up or move them around daily would likely not benefit from using a door.
Customer Case Study
One of our customers at Hemmens Cultural Center in Elgin, IL, uses Screenflex partitions to create dressing rooms, hang art, and hide equipment. To make the dressing room entrance easy and efficient, this customer added a door panel as a private walkway. Our contact told us that the availability of doors as an option with their dividers was great and allowed them to provide  "private spaces much more easily than with pipe and drape."
People who read this article, also enjoyed:
Room Dividers
Partition Walls