How to Prepare for Easter Visitors
For Christian churches, preparing for Easter starts as soon as the new year begins. It is a special celebration Sunday for churches wanting to create an impactful service for its regular attendees and guests. Here are 8 tips for creating a positive experience for visitors on Easter.
Invite
Encourage regular attendees to invite friends, coworkers, and neighbors to Easter service at your church. According to the Barna Group, "31% of active churchgoers said they would definitely invite someone they know who does not usually attend a church to accompany them to a church service on Easter weekend this year." Therefore, it is essential to equip the congregation with tools they can use to reach out to people. Begin by creating an evite or postcard that members can use to invite guests.
Prepare for Visitors
Organize a cleanup weekend at least two weekends before Easter. Have a signup chart where volunteers can register to perform landscape cleaning, paint touchups, decorating, and some mild cleaning of the facility.
Welcome
Take a moment to trace the steps a guest would take when visiting the church. You are sure to find that it all starts in the parking lot. On Easter morning, have ample people directing traffic. Have special guest parking near the front door.
Make a Connection
Be sure to position greeters at the front door. A smile and a handshake, fist bump, or high five go a long way. Identify guest relations volunteers with a brightly colored lanyard or name badge that establishes them as a point of contact for questions. These volunteers should be positioned around the church mingling with people they don't already know. This is not a time to visit with regular attendees. A recent trend in greeting people is with welcome signs or with words of encouragement such as you belong here or welcome home.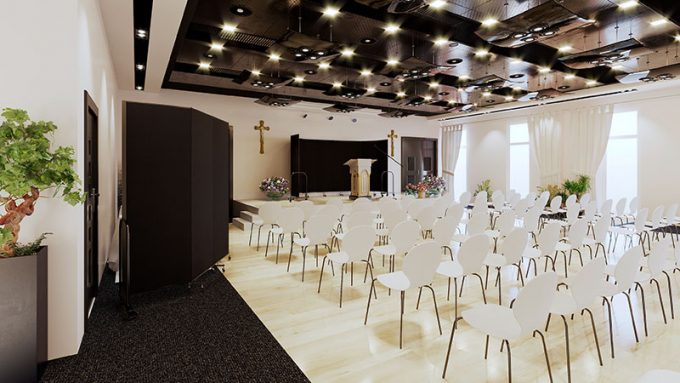 Create an Overflow Area
The best problem to have is the need for overflow seating and viewing. Use Screenflex Room Dividers to create a private viewing area in a nearby gymnasium, multipurpose room, or vestibule. Arrange chairs and a viewing screen with ideal sound equipment for attendees to participate in the service.
Prepare Children's Ministry Space
Parents want to make sure their children are safe. They also want to know the area is clean and sanitary. It may be helpful to have the Children's Director meet with the children's volunteers before Sunday to ensure everyone is equipped to serve. You will most likely need extra volunteers in the children's area, and they should be on time are ready for children to arrive. It is important to make the children feel welcomed and that they belong here. You can do this by making sure to have enough classrooms for regular attendees and guests. Portable walls allow you to separate rooms into two classes to prepare for additional children. Prepare a postcard to hand out to each child inviting them back next week. These can be distributed to each student as they are picked up by their parents at the end of service.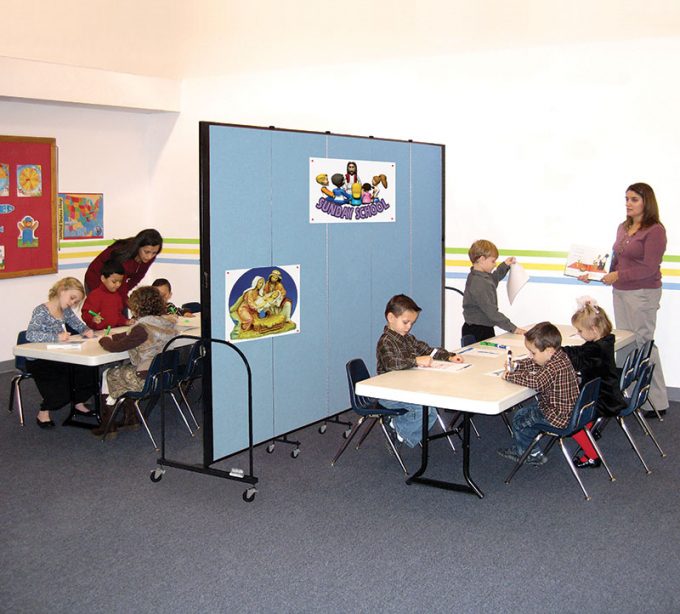 Message Series
Launch a new series on Easter morning! The series should entice visitors to return to hear the completion of the series the following weekends. At the end of the sermon, be sure to invite guests back to hear the complete series.
Repeat the Following Sunday
Nothing is more frustrating for a guest then returning to church the next Sunday, and it is nothing like when they visited on Easter. The personalization, the excitement, the connection is removed. Be sure to have volunteers and greeters in the vestibule welcoming everyone.
Whatever you do to prepare for Easter Sunday it is essential to reflect God, be prepared and be authentic.
People who read this article, also enjoyed:
Room Dividers
Partition Walls