Folding Dividers For Gracie's Preschool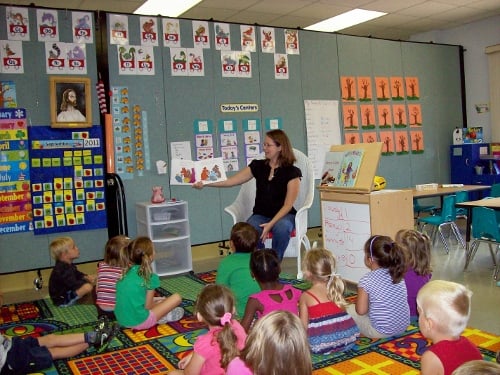 Like many successful schools across the country, Gracie's Pre-school expanded its program this year to include a new classroom for its increasing enrollment. With limited space in their pre-school building, Gracie's turned to Screenflex room dividers to take on their concerns about adding a portable classroom.
Organized in 1918, Grace Lutheran Church has shared the gospel in Vero Beach, Florida for over 90 years.  In 2006 Gracie's preschool opened its doors where students attended 2, 3, and 4 years old pre-school. The fellowship hall was the perfect atmosphere for Gracie's preschool.  Blessed with a new building in 2008 Gracie's enjoyed their new building and lots of space.
Just three short years after moving to their new preschool building, Gracie's enrollment continued to increase.  They needed to add a classroom to their fellowship hall by using Screenflex portable room dividers and it has been a huge blessing.  Screenflex is exactly what they needed to accommodate both the classroom during the week as well as church services and Sunday school on the weekends.  The folding dividers roll right into place and fold up easily and quickly.
The preschool director comments:
Thank you for such a great product!  Gracie's Preschool is part of Grace Lutheran Church in Vero Beach Florida. Our little preschool has been blessed with quick growth and was in need of an additional classroom in a hurry. With your Screenflex dividers, we were able to block off a portion of the church's fellowship hall to make a new classroom space.  Parents who had enrolled their children on an assurance that there would be a quality classroom were not disappointed at all.  Our space looks great and the walls allow us to display not only teaching materials but the children's artwork as well.  Even our DCF licensing counselor was impressed with how your product not only satisfied our need but also offered a blank palate for creating a child friendly space.  On weekends, we just move the classroom equipment to the sides and open the wall in the middle for church activities.  We are also pleased with the ease of operation and mobility.  We would highly recommend your product to others.