Room Layout Ideas Made Simple
Designing the best layout using your Screenflex moving walls isn't difficult. Following a few tips outlined here will help immensely. Screenflex Dividers are a set of panels on wheels supported on each side by end frames. The end frames are 29 wide and are perpendicular to the last panel of the divider. The divider opens and closes accordion style.
Although hinges join each panel to the other, the end frames are not attached to the unit with hinges. The end frame supports cannot be removed from the units, nor should you since the end frames give the divider superior strength and stability. Although they may at first seem difficult to work around, a few simple tips will help you to position them where they will be the most beneficial and the least likely to interfere with your planned activities. Making Corners and Connecting Room Dividers is simple to do. It just takes a few seconds and a little know how!
Room Layout Ideas Using Portable Dividers
Creating Corners
Just bend the divider at any of its hinge points (hinges bend from 0o to 180o).
A corner made at an intersection between two dividers is not advisable since the end frames are best connected straight to each other. Make the connection before or after the corner and bend one divider 90o to make the corner where you wish.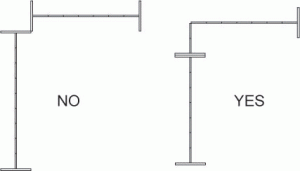 Creating Angles & Bends
The hinges between each panel swing allow the divider to be positioned at angles or when fully open, a straight line. The hinges will not open past 180 degrees, and panels alternate the way they bend, first to the left, then to the right.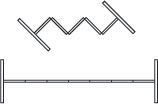 Creating Connections With Two or More Dividers
Connect two or more dividers at the end frames. Lock them securely in place using an optional Multi-Unit Connector. Only the end panels need be straight-on to each other. Create one long straight wall or angle panels to create turns and bends.

Creating Straight Or Angled Walls
Position the end frame flat against a wall.  Make an angled wall, turn the divider at the next hinged panel.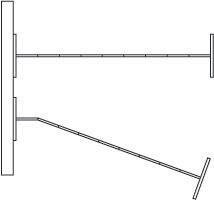 Creating Curves
A curved wall can be made by angling every other panel slightly.

Creating Doorways Between Sets of Partitions
It's best to create entry points between the parallel end frames, especially when using one of our optional doors.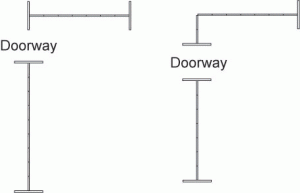 For more examples of how our customers are using Screenflex Dividers in their facilities, See our Photo Gallery. If you like what you see, or just have questions, our non-commission space planners are standing by to give you answers and pricing or help you create the new space you've always needed. Contact us at 800-553-0110, by email at [email protected].