Room Dividers Uses for Training Room Layout
High traffic area? Need Privacy? No problem with Screenflex Room Dividers! 

Customers frequently ask for recent photos of Screenflex Room Dividers in use. This is a great example of how room dividers help to keep sound and visual distractions out of your classroom during meetings and training. Room Dividers can create private rooms just about anywhere and in almost any shape and size. Take a look at these great before and after pics!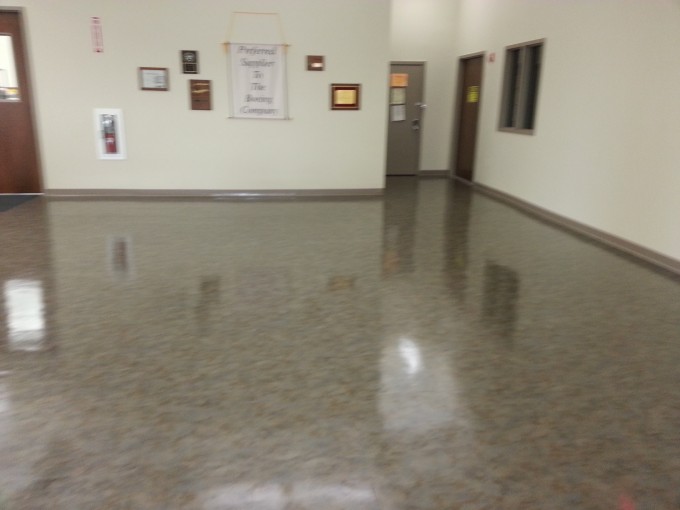 Sometimes during meetings in this large room that is also a shared space, distractions are hard to avoid. When people come to a meeting late, walk by or to and from their offices, you can understand how distracting it could be. Take a look at the photo to the left. This is a nice large room to hold meetings in, however you can see in the picture, that this room is very open. People walking down and through the open hallway could be a huge distraction to the people meeting and training.
Electronics, Inc. thought originally about closing off the hallway to create a private room but they liked the large room, and it worked well in many situations. The other issue is that several offices also branched off from this room. So putting up permanent walls really was not feasible. They really needed an area where they could meet where they wouldn't be distracted by people walking in or through the room.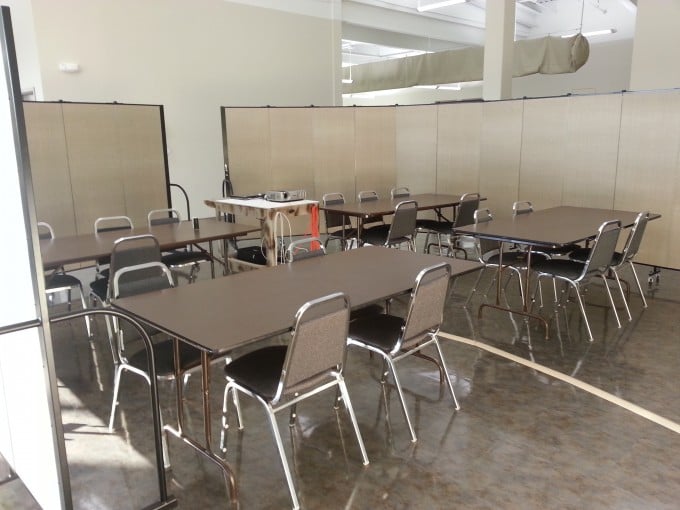 With just two 6′ high by 16′-9″ wide room dividers, an instant private classroom is created! Walls are set up in seconds and folded up just as quickly leaving the room in its original state. The Screenflex Room Dividers don't get in the way of the offices and people are able to walk through and to their offices without distracting the meeting.
Room Dividers nicely block not only the visual distractions of people walking in the hallway but the sound is also acoustically absorbed helping to lessen noise too.
This is a great top view of the new room! From either photo view, you can really see how these dividers help to create a private distraction-free environment.
Here's what Electronics, Inc. says:  "The Screenflex dividers offer a flexible/re-configurable conference/meeting space and allow us to reopen the space if needed for another purpose."
People who read this article, also enjoyed:
Room Dividers
Partition Walls