How to Use A Screenflex Art Display Tower For Stampin' Up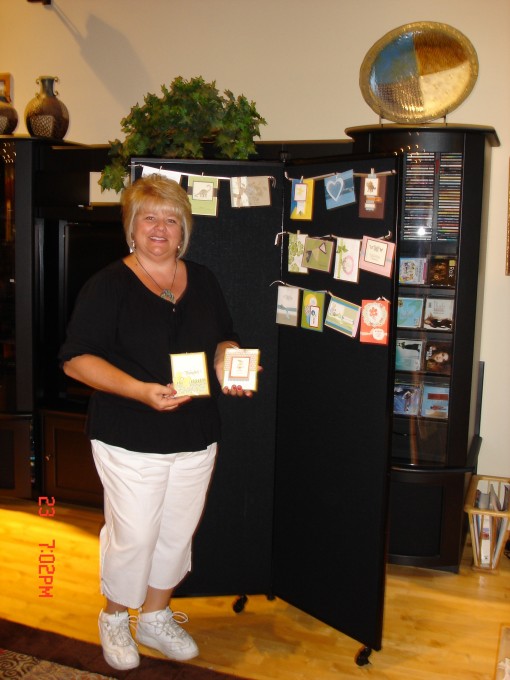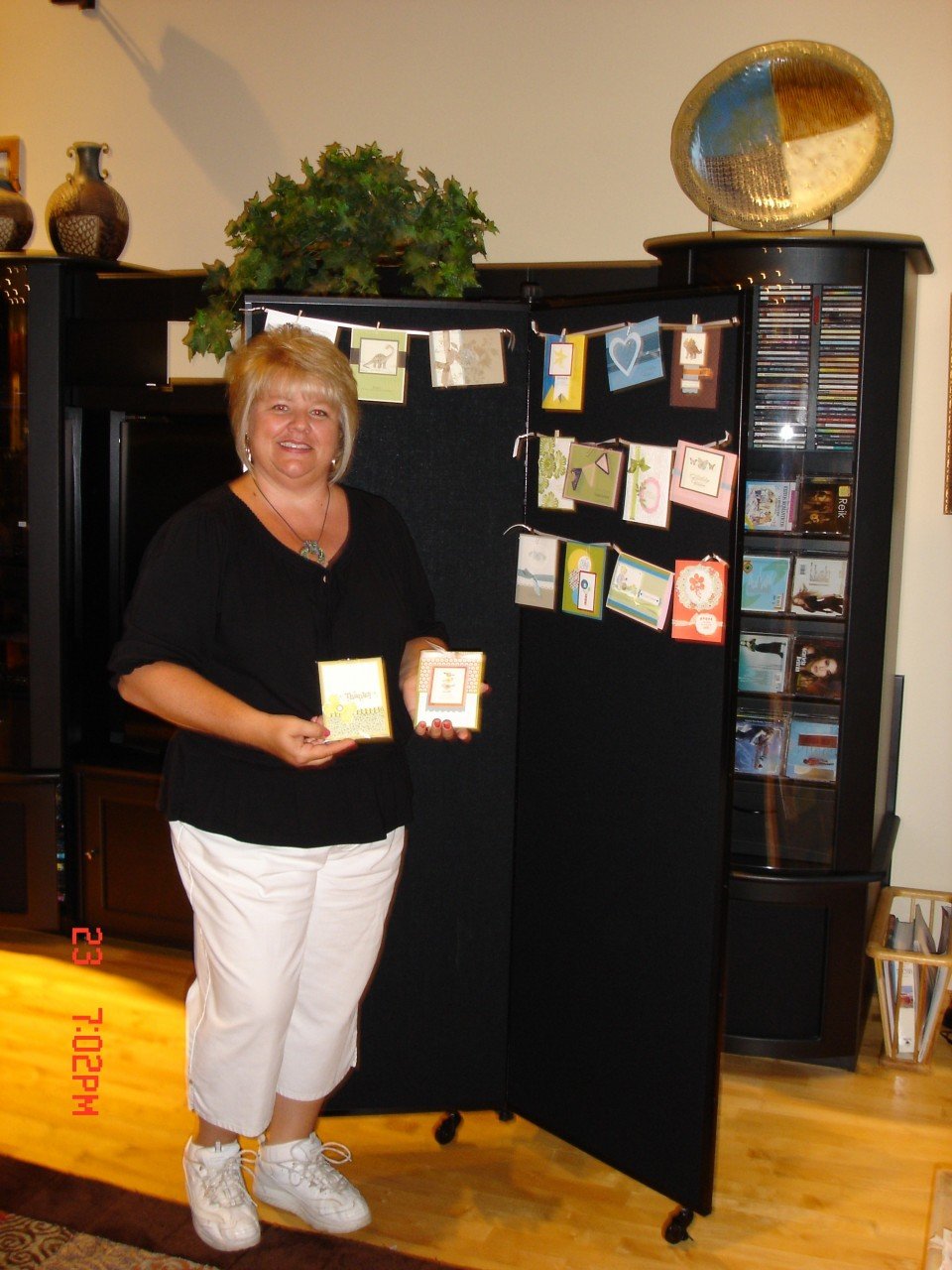 Here's another great example of how room dividers can be used for just about anything.
Have you heard of Stampin' Up? For those of you who don't know what Stampin' up is, it's a super fun and simple way to create personal and professional one of a kind cards.
I was invited to a Stampin' Up party over the weekend and we made four incredibly adorable cards. I have already had tons of compliments on the cards I made and I had a blast making them.
Patty Courtney, our witty and very sweet Stampin' Up representative had several examples of cards that she and others have made.  The photo to the left shows how she showcases her samples on our Screenflex Art Display. Great idea Patty! Partygoers love to see actual samples of what they can make in the future and our Art Display can hold all of her samples plus some. I love the black paneled display that she chose. It really made the cards pop.
Patty selected a Screenflex Art Display Tower for several reasons:
Sturdy-Able to withstand traveling home to home.
Provides enough room to display all of her samples. The three-panel tower provides about 68 sq. ft. of the display area.
Lightweight-Is transported easily.
Lockable Casters-Art Display stays put.
Accepts push pins, tacks, or staples.
Easily rolls from room to room.
Folds flat for easy storage.
Patty finds that when women can see the samples of her cards, they get excited about the different styles they can create with Stampin' Up. I know I did. I can't wait to get my Stampin' Up supplies so I can make cute cards for my friends and family. I'm always looking for a card to put on birthday gifts so the supplies I bought will allow me to create small gift tags for gifts or truly any size birthday cards. The nice thing is, you can design whatever you want. There is also a website that will give you card ideas just in case you need them!
This is what Patty says about Stampin' Up and her Art Display:

Stamping has been my hobby for years. I'm thrilled to be a part of the Stampin' Up! family. I have met many wonderful people & continue to build new friendships.I love to create cards, scrapbook pages & more. Stamping is both relaxing & rewarding….Nothing says "I'm thinking of you" like a handmade card.

I use the partition to easily display my stamped cards by stringing ribbon across the panel with flat thumb tacks. I then use paper clips to fasten the cards so that I don't damage the cards.

It helps me to show off to my customers the variety of samples immediately rather than asking them to view the cards by flipping through samples filed in a shoebox. The partition is lightweight & convenient enough for me to take to people's homes as well as my meetings.

Screenflex makes my demonstrations easier to sell my products.
With some simple tools such as colored paper, ribbon, and buttons paired with Stampin' Up way too cute stamps. You can create inexpensive cards your friends will love in minutes.
People who read this article, also enjoyed:
Room Dividers
Partition Walls