Safety Dividers for Any Workplace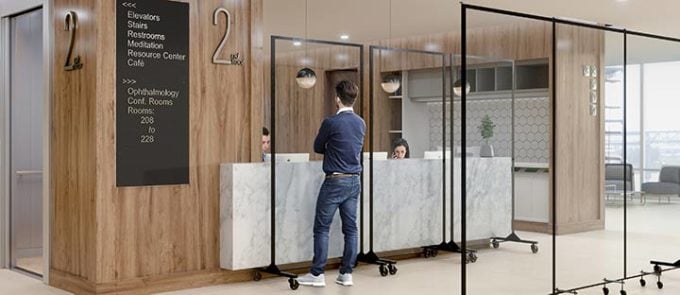 Hazards in the workplace can come in many different forms. As extra precautions, here are some ways our room dividers can help provide safety and protect workers in any workplace.
Clear- Germ Barriers
A common concern in this day and age is communicating through high-traffic or customer service areas where germs can quickly spread.
In addition to wearing a mask, many public-facing businesses are also installing physical barriers made of plexiglass to minimize droplets from spreading. From hospitals to grocery stores, high foot traffic customer/client areas need this sort of protection. For this scenario, try our freestanding plexiglass dividers.
Our Clear Dividers make excellent germ barriers and help safeguard from virus transmission. These dividers are 6'2 in height and therefore provide safety to the average human. They come in either one or three panels to fit most reception or customer service stations. Not only are these dividers freestanding, but they are also portable too.
When they are not currently needed due to the Pandemic slowing down or going back to normal, they can move quickly to storage. The three-panel dividers fold easily, while the one panel can store as is.

Standard- Social distancing barriers
In schools, churches, or any other public space, social distancing is the new normal. The goal of many organizations is to safely return to the public while practicing this new safety standard.
However, in some larger open rooms, it can be challenging to maintain 6 feet apart from one another. To break up classrooms, gymnasiums, or ministry space, try using a portable room divider.
Our Standard Units are both portable and freestanding, which are very adaptable for different spaces. The fabric along the panels is also easily tackable without longlasting damage. This type of material is perfect for churches and schools in particular since they typically have a lot to display including art, decorations, and other notices.
Along the bottom of the screens are self-leveling casters that make movement over any surface easy and safe. The corner casters also lock to hold the divider in place for extra stability and safety.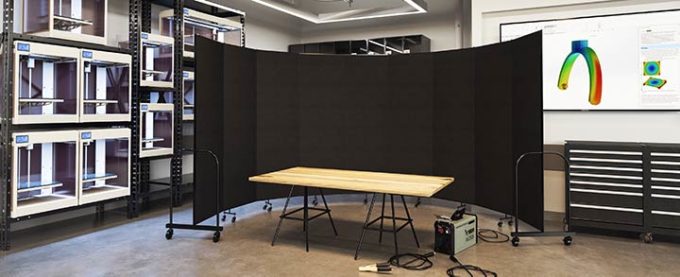 Fire-Resistant- Welding Screens
Welding, grinding, and other similar trades can generate a lot of heat and sometimes even flames. For this type of environment, protection from high temperatures and glares in essential.
In addition to Protective Eyewear and clothing, this setting needs to prevent sparks from spreading to other areas. Screenflex Welding Screens can help with this.
The Screenflex Fire Resistant Divider has a Class A Fire retardant fabric. These screens work well to enclose a welding workspace and can help prevent a fire from spreading to flammable areas of the room. Each panel has full-length hinges to reduce UV glare from anyone without protective eyewear on the outside of the enclosed divider.
These safety dividers can also either partially surround the area or completely enclose it. Since there is room in between the floor and the bottom of the divider, air can flow freely in and out stabilizing oxygen levels.

Multi-Purpose Ballistic Panel
While we hope there is never an issue with this type of safety, sometimes it gives peace of mind to be prepared just in case. For an extra level of protection in the case of an emergency, try our new product, the Multi-Purpose Ballistic Panels.
These bullet-resistant panels meet the performance levels of UL 752 Level 3 and NIJ Standard 0108.01 Type 111-A.
What does this mean? While these panels are not entirely bulletproof, these safety ratings show that they are a durable protective surface that can limit exposure to danger.
Not only are they protective, but some come with a magnetic/dry erase surface to use for everyday activities in any setting. Another available option for the panels is our tackable fabric, which is perfect for displaying items.
For any workplace, room dividers can create the extra safety that we all need.
People who read this article, also enjoyed:
Room Dividers
Partition Walls