Social Distancing Dividers
During the 2020 COVID Pandemic, the world has seen some significant changes. Schools, churches, and every other business or organization have experienced its effects. Now that we are about six months in, we've all heard of the term 'social distancing' more times than we can count. To ensure only small groups are gathering, sometimes a physical barrier needs to be in place. As a manufacturer of portable room dividers, here's how we've seen customers use our products to limit COVID germs spreading and enhance social distancing efforts.
Reception/ Front Desk Screens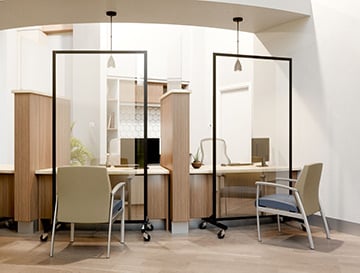 As you have probably seen at any public-facing business these days, plexiglass barriers have become a staple in today's society. Typically, when you first walk into a business, there is a clear plexiglass shield in front of a reception desk.
This type of product has been essential to prevent germs from spreading while allowing communication between both sides. Our Clear Plexiglass Partitions have specifically been beneficial for hospitals and other similar reception areas in the COVID era.
Screenflex Clear Dividers are unique from other plexiglass barriers because they are both freestanding and portable. Instead of cluttering up your desk with a tabletop divider, this COVID partition rests on the floor allowing more workspace.
By resting on top of locking casters, these rolling plexiglass walls can also hold in place for extra sturdiness when needed. This particular product comes in either one or three panels and can easily store out of the way when the concern of germs spreading is no longer as serious.
Extra Classroom Space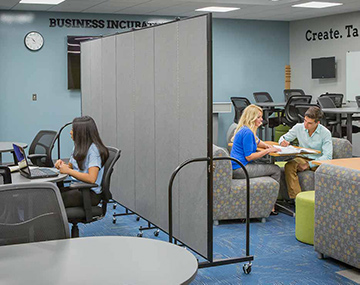 While the plexiglass COVID barriers work great for communication purposes, there are some cases while using social distancing barriers that it's not needed. Using a physical barrier can also help prevent issues like large groups or crowds from gathering. For instance, some of our customers have been using our COVID dividers to create extra classroom space.
Since there is a limited number of people allowed to gather, classrooms need to spread out as much as possible. Combined with other technology, these schools are able to fit more kids while following the social distancing guidelines.
Overflow Hospital Patient Area
In addition to schools and churches using these dividers in classrooms, we have also seen our freestanding partitions help create patient overflow space in hospitals and other medical facilities. Especially at the beginning of the pandemic, when there was a big concern about overcrowding hospital rooms, we needed a solution to create extra space. Our folding partition walls helped create that overflow space for hospital patients and give them the temporary privacy they need.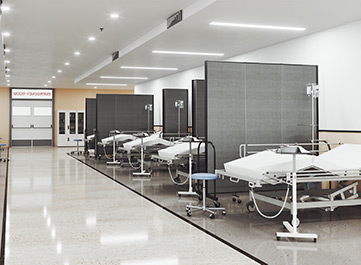 Our Standard Room Dividers are a great addition to any facility for this reason. These accordion-style room dividers are portable just like the clear ones but offer fabric or vinyl-covered panels instead. The vinyl covering, in particular, is increasing in popularity recently since it's easy to clean and includes an antimicrobial coating. When germ prevention is the goal, sanitization is key.
Each panel also has a honeycomb core that absorbs excess noise from students, congregants, patients, or any other large group from loud, public settings.
Conclusion
This pandemic has affected everyone in some way and most people are more than ready to return to normal. Our partitions are not only useful in the pandemic, but in regular times as well. By using COVID dividers, we can enhance social distancing and prevent germs from spreading. Once we have the spread under control, then we can gleefully return to our normal state of the world.
People who read this article, also enjoyed:
Room Dividers
Partition Walls