Post-Pandemic Classroom: Crosby Elementary
During the Coronavirus pandemic, schools everywhere have had to quickly adjust their game plan to educate their students. Crosby Elementary in Harvard, Illinois, is no exception to this change. Like many schools at the beginning of 2020, Crosby resorted to remote learning for all of their students. However, now as the vaccines are rolling out, educators have had to prepare for what the reopen looks like with newer precautions than before. Here's how Crosby Elementary adapted its space and schedule to accommodate students in a post-pandemic classroom setting. 
New Uses for Common Spaces
Crosby Elementary is a K-3 school that prides itself on its dual-language program and general engagement levels from its students. Before COVID, these educators utilized their space design to encourage stimulation exercises with the students. This style was accomplished by including a variety of common spaces outside of the traditional classroom. Not only do these spaces include an expanded library, but also reading space in an auditorium-style concept. Their facility also includes discovery centers and multipurpose room space. 
As the school's reopening plans currently unfold, the teachers have made several changes to their daily routine. These school leaders have decided to slowly reintroduce some of the student population while monitoring the safety and regulations that the government provides. They are accomplishing this feat by alternating school days in an A/B format. In addition to the new scheduling, the staff has also increased the cleaning and space out their students to prevent germs from spreading.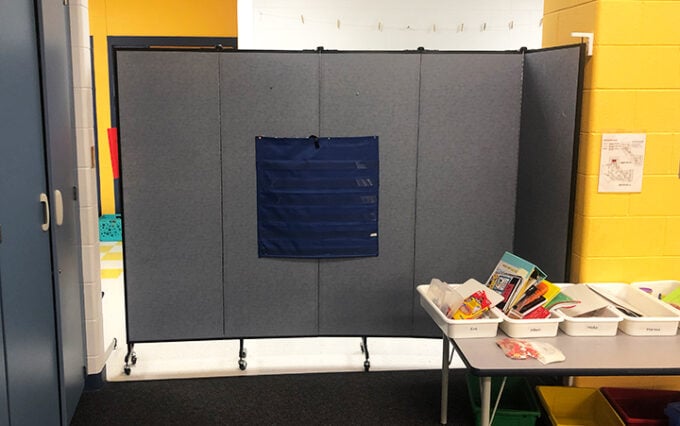 Even though students' general population returned in person in early April, others, including those in special education, came back a couple of months ago. We spoke to Brad, a Special Education teacher at Crosby, and he said he now primarily teaches his students in one of the discovery centers instead of his old classroom. Since this multi-purpose area is bigger, he can house his students with more space and increase social distancing between them. Also, in this post-pandemic classroom are a few art teachers' work desks. How are they separating this special ed classroom and the art teachers? By placing portable room dividers by Screenflex in between. 
Using Dividers in a Post-Pandemic Classroom
Crosby School originally purchased Screenflex Standard Dividers several years before the pandemic ever began. They were used in their discovery rooms at first for adaptability in the space. As more needs for partitioning space came up, these educators would purchase more Screenflex Dividers throughout the years as well. However, little did they know that these partitions would help them out with social distancing in present times. By placing the dividers in between a classroom and general office space, these teachers could efficiently maximize their facility during the unprecedented worldwide event that is the COVID-19 pandemic. 
Though Brad said honestly that he misses his old classroom, the dividers have been a great help through a tough situation. Not only do they act as a temporary wall in his teaching area, but he also has been able to personalize them as if he were in his own classroom. Because of the tackable fabric, he can pin signage and posters up. Towards the end of his interview, Brad said: "I'm [naturally] excited to eventually get back to my classroom again, but when I do, I would love to continue using these room dividers in there too. They are easy to move and manipulate, and I could do a lot of cool things with them."
The COVID pandemic has created a great deal of hardship on everyone. Still, the addition of remote learning presented challenges that no teacher or student has ever experienced before. By using dividers and other classroom objects, Crosby Elementary successfully entered this new phase of reopening post-pandemic.
People who read this article, also enjoyed:
Room Dividers
Partition Walls