Food Drive Procedures in a Pandemic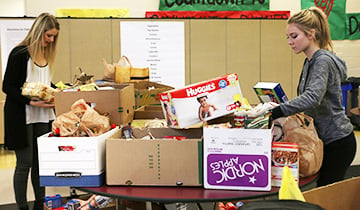 COVID-19 has rapidly changed how the world functions within a matter of weeks. Businesses and organizations that remain open have had to adapt in order to weather the storm that is this pandemic. Even though the world is trying to "flatten the curve" by staying home, people still have to return to the public for some basic needs. What is an essential life need? Food. Even before the pandemic, many non-profit organizations and churches organize food drives for impoverished communities. Since a lot of jobs recently have been furloughed or let go entirely as an effect of the quarantine orders, these drives are now especially critical.
The concern with putting on a food drive during a pandemic is how to do it safely without spreading germs further and broader. People need food, but specifically in these times, they also need to stay healthy. In a season of quarantines and social distancing, these charitable events need to be done with some new rules and regulations.
Cleaning Procedures
Food banks and pantries have always been careful about the type of food they collect. There are all sorts of regulations that protect people from products that are unclean or tampered with. For that reason, the food must arrive in their original packaging. Typically, these foods include canned or sealed items but some food banks can have exceptions.
Since cleaning with disinfectant and antibacterial soaps helps kill the virus, food drive volunteers should be sanitizing the food packages upon arrival. As an added measure, these volunteers should also protect themselves by wearing gloves. Most grocery store employees can already be seen doing the same thing during this pandemic.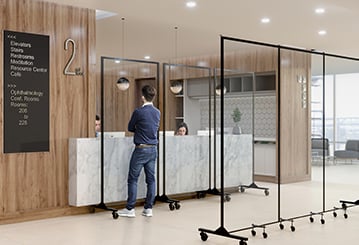 Social Distancing
Screenflex Dividers can also help create a safer donation experience. In these times, any exposure with other people needs to be limited, and also include social distancing practices. When being in contact with others is necessary, portable partitions can help as a physical barrier. 
Screenflex Clear Dividers are the best way to create a see-through barrier that helps protect against germs. When donators bring in their items, they can be separated from the food drive host or volunteer. These dividers come in either one or three panels so they can adapt to any need. They are portable and can store easily for another time. The fabric-covered partitions can also create a tackable surface for displaying rules and instructions. In the event that several people show up, any of the dividers can also be a way to create crowd control. Similar to a rope barrier, Screenflex Clear Dividers organize a line with extra protection.
We are all trying to limit contact with other people right now. However, there are currently millions of Americans that don't have any resources to get food for themselves. If your church or non-profit organization has the capability to put on a safe food drive, please consider doing so. With proper cleaning procedures and tools to prevent the spread of COVID-19, some friends and neighbors in our country will get to eat because of your efforts.
People who read this article, also enjoyed:
Room Dividers
Partition Walls