Why Buy American Made Products?
Tradition and pride have always played a key role in American manufacturing and even more so during tough economic times.  For American manufacturers, these values are nowhere more evident than in the design and innovation that go into the engineering and manufacturing of their products.  And here in the heart of the Midwest, these same ideals are alive and well at Screenflex's headquarters in Lake Zurich Illinois, where we design, manufacture and market our portable room dividers.
The Case for American Made Products
In a report on Manufacturing, Jobs and the U.S. Economy, The Alliance for American Manufacturing reports,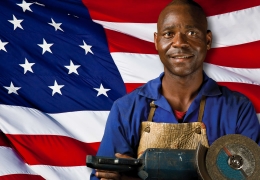 American manufacturers directly employ more than 11 million Americans and create 8 million additional jobs in other sectors.  American families and communities depend on a strong manufacturing base to improve our quality of life.  
This is so true.  At Screenflex, we employ 30 full-time skilled workers who assemble, sell, or market our products, and this number does not include the countless people employed elsewhere who supply our raw materials or distribute our dividers on the secondary market.  Screenflex will soon celebrate its 25-year anniversary and many of our employees have been with Screenflex for almost two decades or more; that's quite an accomplishment in what has become the new American economy.
Why Made In America Still Matters
According to Made In America Movement, a nonpartisan organization lobbying for American manufacturers, suppliers, distributors, and small business owners, U.S. consumers are spending more money on domestic goods and services at the cost of imports.  This shift in spending, or import substitution, has the potential to create more jobs and drive the unemployment rate lower, eventually leading the Fed to hike interest rates and push the dollar higher.
Some advantages of a higher U.S. dollar are:
Lower prices on foreign goods & services
Help keep inflation low
Cheaper for US citizens travel abroad
US investors can buy foreign investments cheaper
Why buy American Made Products?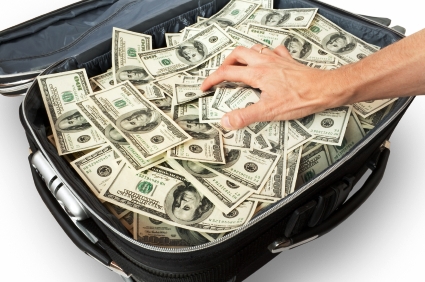 The reason often cited by consumers for why they buy foreign-made products is that they are less expensive, but at what cost?
Simply put, when you go to the store, pick up something that doesn't have the Made in America label on it, you are in effect traveling overseas with a suitcase full of U.S. Dollars and purchasing foreign goods.  That might seem simplistic, but it helps to prove the relative value of the dollar and its strength or weakness, which pretty much affects all of us.
For some American based companies, the business logic behind offshore outsourcing is that it will cut operating costs, but often the products are of low quality and poorly constructed.  Initially, consumers are willing to sacrifice price over quality, but eventually, it ends up costing them more.  Soon, they realize they have to replace these low-quality products more often and opt for quality over price.  In the end, it pays to buy American made products.
Made in America
One of the truest expressions of American democracy is the freedom to engage in private enterprise and being able to pursue the dream of owning your own business.  The owners of Screenflex are truly representative of the American Dream and all that is right in American manufacturing; producing a competitively priced, an American-made product using top high-quality materials with an American based labor force.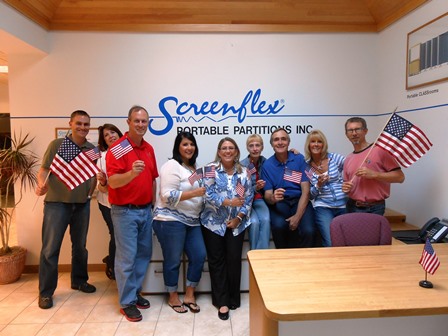 The ability to design and produce a high-quality American made product is a source of great pride at Screenflex.  Tradition also factors into how Screenflex manufactures their portable room dividers.  Our first product design was envisioned over 30 years ago, and since then Screenflex has continued to improve on that innovation and still proudly remains an American made product.  Not only does Screenflex produce the highest quality freestanding room dividers on the market (over 36 different sizes, 6 styles, and 40 different colors, we've responded to our customers' requests, by offering a heavy-duty commercial line as well.
When you buy a Screenflex room divider, you do more than buy from a company based in the United States.  Know that when you buy Screenflex products, you buy a product assembled right here in the United States and made with parts manufactured in the U.S., and that is a very important distinction to make.  We are 100% committed to continuing to manufacture our room dividers right here in America.
How to Buy American Made Products
If you are a business looking to market your product, or a consumer looking to buy American made products, there are a number of websites and Facebook pages devoted to helping consumers find listings of companies selling American made products.  But most importantly, when in doubt, just ask!
People who read this article, also enjoyed:
Room Dividers
Partition Walls