Screenflex Markerboard Option

In addition to our expansive room divider and partition collection, we at Screenflex also offer plenty of product options for customers to personalize their facility further. One product option in particular that offers you a writing surface is the Screenflex Markerboard.
The Markerboard is a 36″ x 42″ dry-erase panel that hangs over any of the Screenflex partitions. This hanging whiteboard also includes a tray that runs along the bottom of the panel to hold markers and erasers. This whiteboard is small and lightweight enough to easily be picked up and moved to the desired location of the divider.
How does the Markerboard differ from other Screenflex dry-erase board products?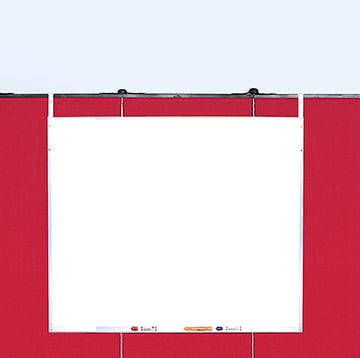 Screenflex offers two other whiteboard surfaces: the Whiteboard Partition and the Dry Erase | Tackable Screen. While they all have an erasable finish, the Markerboard differs in that it is not a freestanding device. Customers use all of these products for similar purposes–classroom settings, office brainstorming, or coaching but personal preference plays a lot in choosing the best one for each facility. Some businesses need an actual division of their rooms plus the writable surface of a dry-erase board. In these scenarios, either the Dry Erase | Tackable Partitions or the Markerboard attached to one of our freestanding dividers would be the best option. The Markerboard option is also great when you want to hold the markers near for ease of use.
However, while Screenflex's Whiteboard can create separation in a space, the main purpose is meant to be a portable writing surface. These whiteboards work best for brainstorming or athletic locker rooms since the goal is not to create separation.
Screenflex whiteboard surfaces:
Whiteboard Partition– Freestanding whiteboard that comes in one or three panels (3'4″- 10'0″ in length)
Dry-Erase | Tackable Screen– Whiteboard panels added to our Standard Room Dividers. Available in 6'0″ tall and customizable with six different lengths. This can be in magnetic for extra display purposes.
Markerboard– 3ft x 3.5ft hanging dry-erase board with adjustable hangers to accommodate people's different heights.
Customer Case Study- Alcester-Hudson Elementary School
Alcester- Hudson Elementary in South Dakota recently purchased a Screenflex room divider and added two Markerboards to their order. The portable partition helps separate classroom space, and the educators added a markerboard option to either side of the freestanding wall. When we spoke to our contact at the school, Hailey Schroeder, we got a chance to learn more about these Screenflex products in her classroom. The partition splits the room into two spaces for when the class has small group instruction. Hailey has her students use the markerboards to go up to the front and complete practice problems. By having one on each side, the students can stay in their small group instruction spaces with ease.
This school opted for the markerboard option instead of full-length whiteboard panels because they needed privacy from one side to the other. Room dividers not only provide a visual barrier, but they also help absorb sound to limit auditory distractions. Plus, this school could hang student storage from the dividers as well for an organized classroom setting.
Speak with one of our sales consultants today to see if the Screenflex Markerboard is the right option for your facility.
People who read this article, also enjoyed:
Room Dividers
Partition Walls