Why Christian Missionary Work?
And he said to them, "Go into all the world and proclaim the gospel to the whole creation. Mark 16:15
What is a Christian Missionary?
The word Ministry, originating from the Greek word Diakoneo, means "one who executes the commands of another, especially of a master; someone who is a servant or attendant."  To many Christians, ministry is a service to God and to other people, in His name.  A Christian missionary then is someone called by God and sent out by the local church, as every Christian's mission to make disciples and reach out to "all the nations."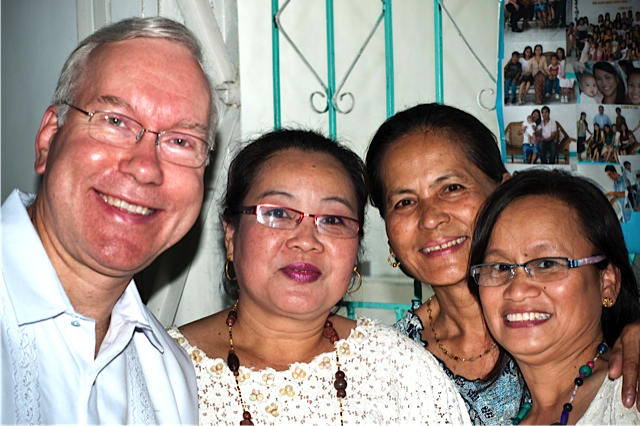 There are those followers of Jesus who devote themselves fully to spreading the Gospel.  They feel a calling become a long-term missionary, setting up churches in other areas or far off lands.  Others take time away from their chosen professions to embark on shorter trips with a focused purpose.  The goal of any Christian missionary work is to tell people about Jesus.  This is accomplished in many ways through street preaching, providing handouts, church planting, hosting Bible studies, teaching ESL and literacy classes, building projects, bringing the gospel into remote areas (mountain trekking), radio broadcasting, and in the case of Dr. Bob Tanney, short-term mission trips to give medical services while also spreading the word of God.  We became aware of Dr. Tanney's missionary trips through his being the personal physician for two Screenflex employees.
We had the opportunity to interview Dr. Bob Tanney, a member of the Quentin Road Bible Baptist Church (QRBBC), and he was kind enough to share his
Philippine missionary experiences with Screenflex Portable Room Dividers.
SPRD: Do you or others at QRBBC go to the Philippines every year?
We have gone to the Philippines the past 4 years.  This will be our 5th trip.  We started going on short-term mission trips in 1997, visiting the Philippines, Thailand, and India.  It was always something that my wife Meg and I wanted to do.  The first time we were asked to go, I don't remember much hesitation on our part.  In fact, it was an answer to our prayers.
SPRD: How did QRBBC become affiliated with the church you worked with in the Philippines?
QRBBC has an outreach ministry, Victory in Grace.  Victory in Grace encompasses missions, television and radio broadcasts, printed media, and publications.  We travel with Victory in Grace and minister to churches worldwide.  There were families in our church, at Quentin Road, who had family members in the Philippines.  Two sisters had both grown up in the Philippines and in Chicago, and their parents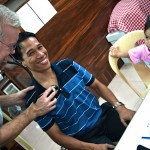 had made a commitment to bring the gospel back to their home, north of Manila.  Five years ago, we went to work with Pastor Nelson Flores, their father, he had such a heart for his people.  He was diagnosed with a terminal disease while we were there, we were able to serve the local community, and meet other like-minded friends.  It was an incredible time for Pastor Nelson and his family and church.  We were able to take part in a very intimate way.  He passed away only 3 months later.  Pastor Nelson's son-in-law and daughter left the northwest suburbs of Chicago to take over that work.  It has all grown from there.  We have a good reputation and see some of the same people year after year.  Pastors who serve these special people need all the support they can get. 
Christian Missionary Work
SPRD: What medical/dental services do you offer to the villagers when you go there?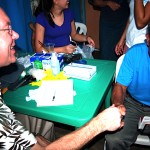 When we go to the Philippines, we bring lots of medicine.  (An example would be 25,000 adult multi-vitamins).  We have applied to charitable organizations for some medications and purchased other supplies from wholesalers.  At this point – with only several weeks left before we travel, we are all set for this trip.  We travel by bus and bring a portable "suitcase clinic".  We provide assessment, vital sign check, consultations, diagnosis, and treatment.  Local dentists join us in some locations.  Our hosts arrange those details.  
SPRD: I understand there are many Christians in the Philippines. How receptive are the people you treat to hearing the gospel of grace?
In the Philippines, the name "Christian" is very common, but it means something different to almost everyone we meet.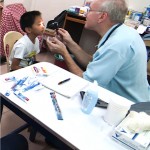 Many people we see are frightened of God and His judgment.  They are very unsure of their place in Heaven.  Many hope for heaven but fear they are bound for hell.  Imagine their surprise and delight when they learn of God's love for them, His blood shed to pay for their sins, when we share the truth of the gospel. 
We all have sinned and deserve  to spend eternity in hell  Rom 3:23
The wages of sin – Hell, but the gift of God – eternal life  Rom 6:23
No sin can enter Heaven  Rev 21:27 
Christ took our sins on himself – we receive His righteousness  2Cor 5:21
We are saved by believing, What Christ Did for the US!  Eph 2:8-9
We can know this for sure because of … 1  John 5:13
Last year we saw over 800 people for health visits.  200 of those people trusted Christ as their Savior!  In that instance, we cared for the here and now; and gave them a new lease on forever!  The children are beautiful, often coming in malnourished or fevered.  The adults have heartbreaking issues in daily life, needing comfort and compassion.  No amazing individual cases, just overall amazing need.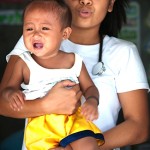 SPRD: Where do you stay and where do you eat when you are there?
We stay where our hosts place us.  They know the local businesses, and we rely on them for a clean, safe place.  Generally, Christian Guest Houses or budget motels are typical.  We always sleep well.  We have eaten very well in the Philippines.  Treated to the local fare and partaken of the traditional spit-roasted pork feast.  We are treated as honored guests and receive special treatment.  As our friends share in our meals and work, it is easy to see them appreciating the celebratory food.  Food is plentiful in the Philippines, but it is expensive.  Let me just say – all these things help me cultivate a very thankful heart! 
SPRD: Do you charge for any of your services?
We never charge for any of our services or medicines.  Medication and medical care are very expensive when compared to the average wage.  Therefore, people are generally very thankful and appreciative of our care.  There are those that suffer so intensely, that don't show such feelings.  We do our very best to make every soul that passes through our door feel valued and loved and better. 
SPRD: Do you seek donations to help fund future missions?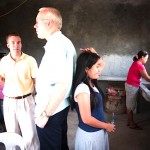 We do not solicit donations for this venture but as we are affiliated with Victory in Grace, anyone wishing to donate could; and tells them that you want it to be used for the Philippines mission trip. 
SPRD: Is there anything you would like to add?
To wrap up – we have been so blessed to be found useful in this way.  We get to share the Love of Jesus Christ in a very physical way.  We come back to Chicago and sigh, so thankful for what we have been blessed to share, and for the soft bed to sleep in…
Life After Christian Missionary Work
Although there are customs, an unfamiliar language, and culture shock to overcome, for short-term missionaries, their reward is that they are able to bring God into people's lives.  And their passion does not end at the mission trip's end.  It clearly continues to energize the short-term missionary long after they return home.
Dr. and Mrs. Tanney were part of a larger missionary group hosted by long-term missionaries Pastor Matt and Mrs. Rina Wolff.  Pastor Wolff missions at a church located about 30 miles north of Manila in Baliwag, Bulacan, Philippines. You can read more about past mission trips,  and how you can support them financially, on their blog, Our Journey.
We wish Godspeed to Dr. Tanney and his wife on their upcoming mission trip, and would very much like to hear from them again!
People who read this article, also enjoyed:
Room Dividers
Partition Walls