The Case Of the Missing Room Dividers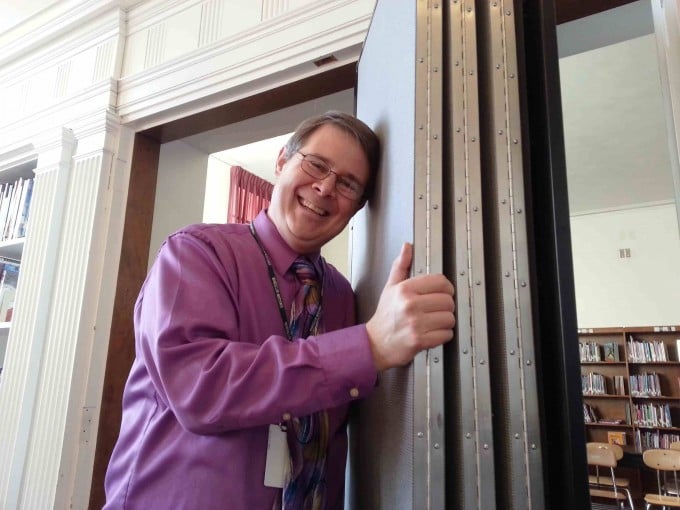 School librarian Michael Brown had a problem.  At his school, when a teacher would bring their class to the school's library, it meant the library was effectively closed to everyone else for that period.  Michael was trying to think of a way to break the large room into two smaller spaces and make the space more flexible so that more people could make use of the library's space.  What he did know was, he couldn't afford to build a wall, and didn't want to permanently alter the space.
Michael was lamenting this need for more flex space to use for meetings, workshops, quiet reading areas, parent conferences, etc., to his principal.  The administrator told Michael she had the perfect solution for him and told him about a product they were using in her church.  Something called a Screenflex room divider.
Well, that was 15 years and 6 dividers ago, and Michael still swears by his Screenflex room dividers.
The Case Of The Missing Room Dividers
Initially, he purchased 2 units, and as Michael tells it, they were quickly hijacked by classroom teachers! Michael said that the teachers quickly saw that the Screenflex dividers offered a solution for the problem they were looking to solve; easily add flexible space to their teaching areas.  Being able to create their own quiet reading or testing areas, or dampen sound, was important to them.  Creating testing areas will be particularly important with the new testing requirements being implemented with the Common Core Standards.
As Michael tells us, many people don't know they have a need, until they see it.  After seeing Michael's dividers, more Screenflex dividers were purchased later and used to shield noise coming from the school's file servers.  The dividers were ideal because they don't go all the way to the ground or ceiling, which still allows the air to circulate around the servers.
Anything You can Imagine, You Can Create With This Product
Throughout the years, Michael continued to buy dividers and low and behold, they found their way out of the library and into another spot!  He tells us that because of the way they're designed and the material used, even the oldest dividers are still going strong after all these years.  Even the backing and fabric of the ones that are repeatedly brought out and used for art shows have held up very well.  He states that a big bonus is they are hinged, so they can be shaped into multiple configurations.
Doors Are Overrated!
Michael's most recent divider purchase acts as a temporary door for a side room at the library.  The double doors were removed several years ago to add extra space to the library, but Michael soon found there was often a need to close it off for activities.  During those times, he also needed to block voices and sound coming in and out of the room.  Working with one of the Screenflex consultants, he ordered a divider that almost entirely fits the doorway space.  This solution has increased the use of the library, and that's a good thing!
Michael was appreciative of the design consultation process and how important it is the measure your area, especially height.  Being able to work with one of our professional designers was invaluable because, as he said, "It's almost as if it were custom-made!"
Michael tells us there have been a dozen or so products in his life that he will recommend, and Screenflex room dividers are one of them.  The dividers have never given him any trouble, open, close and roll easily, and the casters are super sturdy.  For Michael, the fact that the units are lightweight, on wheels, and can easily and safely be moved from place to place by just about anyone was the icing on the cake!  In addition to being a faithful product, he feels they are very safe.  Michael has rolled, set up, and closed the dividers around young people on many occasions, and has done so without any mishaps, problems or accidents.
You Have A Need, We Have A Solution!
In today's educational facilities, teachers, librarians, and ancillary staff are looking for flexibility.  Whether it's a dividing a teaching space, creating a quiet reading corner, or an impromptu conference area, being able to create "flex space", when and wherever it's needed is important.  Call one of our sales consultants to discuss your need, and just like Michael, we'll find you just the right solution that fits your space and budget.
People who read this article, also enjoyed:
Room Dividers
Partition Walls