Dividing Wall Panels Maximize the use of Your Space
Maximize The Use of Your Space with Dividing Wall Panels
The good news is that you've done a great job in helping your ministries grow. More children are attending Sunday School. More adults are learning in Bible Study Classes. The youth minister reports similar gains for teens.
The bad news is that your available space remains the same. Even after a rigorous construction fundraising campaign, renovations take up to a year to complete.
Thus, the answer is to make better use of your existing space with portable room dividers.  This type of divider can not only solve space issues but save time and budget problems during your current situation. Since the walls are on wheels they move easily and have many uses.
Easy to Use
Use portable room dividers to create instant Sunday school classrooms, Bible study areas, VBS space, or to display information.  Fellowship halls, family life centers, basements, converted sanctuaries, multi-purpose rooms, or open areas are ideal for room dividers. Many creative youth ministers and pastors have expanded the role of portable room dividers to include even their use in gymnasiums. Why not? It's quick to set up.  Easy to take down and store.  You get a lot of bang for your buck.
Flexibility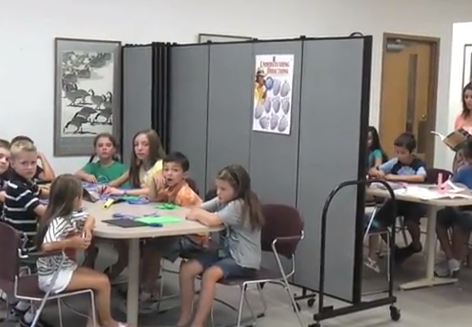 Besides being portable, room dividers also have another important and often forgotten advantage over other fixed dividing means.  Drywall walls or dividers lock into tracks at the top and/or bottom of the ceiling/floor. With Portable Room Dividers, you can easily change both the size and the shape of the rooms on a moments notice.
On any given Sunday, for example, you may need a half-dozen Sunday School Classrooms in the fellowship hall in the morning, split the room in half for two different family events in the afternoon, and into quarters for a CPR class (CPR is an emergency procedure for manually preserving brain function until further measures to restore spontaneous blood circulation and breathing in a person who is in cardiac arrest) later that evening.  You need privacy that the room dividers give you, to make these activities at the same time.
Portability
In essence, portable room dividers are available in two basic types: with casters and without casters. By its very nature, a divider on casters is easier to move throughout your facility. Whoever first invented the wheel must have had Sunday school teachers in mind. Screenflex Portable Partitions has taken the concept of a rolling divider and taken it several steps further. They have taken a series of tackable, sound absorbing lightweight panels and affixed casters to feet on the bottom. A 29″ wide steel end frame attaches to either end for strength and stability. Being on casters, this entire assembly can easily be rolled into place in seconds. After unlocking a simple latch, the panels set up in any configuration to create a classroom, portable bulletin board, or even a maze for the youth ministry!
The best part is that these portable and flexible room dividers are that it stores quickly and easily and take up very little space.
Regardless of whether you decide to use portable room dividers with or without casters, the fact remains that you will get the most efficient use of your valuable floor space with Portable and Flexible Room Dividers.