Lake Zurich Citizen of the Year Award
Screenflex Employee, Janet Barron, Honored with the Lake Zurich Citizen of the Year Award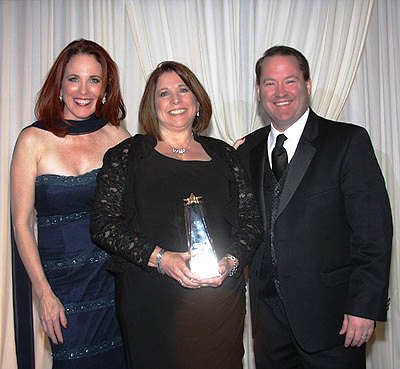 The Lake Zurich Area Chamber of Commerce hosted the Lake Zurich Citizen of the Year Award event at Concorde Banquets in Kildeer, with a dinner and live entertainment.  The chamber's annual awards night held on January 25, 2014, recognizes community members that help make the Lake Zurich area a better place to live and work.  Awards are presented to leaders in business, education, government, and not-for-profit organizations.  Nominees were selected by chamber members, local residents, and government entities.
Honorees include:
Ken Grooms of Grooms Insurance Associates of Lake Zurich, for business of the year
Muffi Painter of Polaris Financial Services, for chamber volunteer of the year
Sherry Fisher a science teacher at Middle School North, for educator of the year
Janet Barron of Lake Zurich, for citizen of the year
Janet Dobson of Kemper Lakes Golf Club, LZACC board of director, for member of the year
Janet Barron work's here at Screenflex Portable Partitions.  Located in Lake Zurich, Illinois and she runs our social media department.
Janet moved to Lake Zurich in 1991 with her husband and two daughters.  They liked the small-town feel of the community as well as the proximity to where it was located in reference to their jobs at the time.  She has watched the community grow from 8,000 residents when she moved here, to over 20,000 residents at this time.
Janet has always been a person that did not just sit and watch, but one who gets involved.  She feels strongly about community involvement.  She is quoted to say: "I think when people invest their time in their community, it gives them a different perspective".
Some of Janet's many accomplishments include serving on her subdivision home owner's board, also helping the Girl Scout's as a leader, when her girls were young, and chairing the day camp program.
She helped as a parent volunteer in the Theater program, both in the Middle School south as well as the High School.
In 2009, Janet was one of two people who put together the "Save Lake Zurich Music Initiative", for District 95, to save the band and orchestra program.  They put together a Golf Outing, Dinner Dance, Tee Shirt Sales, and Raffle.  They raised over $155,000 in just 9 weeks.  Wow!
Janet was an unpaid volunteer working on the mayoral campaign for Tom Poynton.  He recognized talent when he saw it.  One of the Mayor's goals was to resurrect the old Farmer's Market.  He looked to Janet to assist in this endeavor.  Janet was one of two people chairing the Farmer's market committee.  They found and organized 37 vendors selling locally grown, both organic and non-organic produce, honey, baked goods, peanut butter, dog treats, and gluten-free product's as well.  While the Farmer's Market benefits for the residents of Lake Zurich, it also helps to fund the playgrounds and parks.
Rock the Block event came about as resident's felt the need for a fun Summer day out, where the community could be involved.  Once again the mayor looked to Janet and three other residents to coordinate this undertaking.  They put together a day filled with band's, food vendor's, kid's fun, and a raffle to benefit the St. Vincent De Paul food pantry found in the St. Francis Church in Lake Zurich.  This event attracted 4,000 people to Lake Zurich's downtown area for Rock the Block.
Always modest, here is another quote by Janet.  "I am just a small part of the many people who served on the committees that made Rock the Block; Dine, Dance, Rediscover Downtown, and the Lake Zurich Area Farmers Market possible," Barron wrote on the chamber's Facebook page, "Looking forward to even bigger and better events to come in 2014."
I think we call all agree, Janet has a generous heart and is a fabulous organizer.  Here at Screenflex Portable Partitions, Janet is always surprising us with her baked treats.  We tease her that she knows everyone in Lake Zurich.  She takes it all in good humor.  I really do not know where she gets the time.  I am exhausted just writing about her accomplishments.  She definitely deserves this award.
People who read this article, also enjoyed:
Room Dividers
Partition Walls