Anywhere You Need To Divide Space
Room dividers are the perfect solution for dividing space temporarily. Our Standard portable walls come in six heights and six lengths. Any combination of these dimensions can be created to tailor make the rooms you desire. See how they can be used in your fellowship hall or gymnasium….anywhere you need to divide space.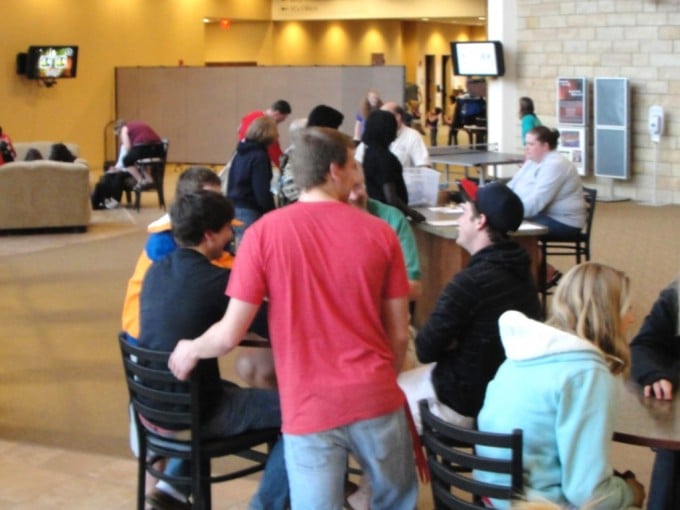 Fellowship Hall
Portable walls work in your fellowship hall by creating 1, 2 or many temporary rooms in minutes. When you need to use the entire room, our dividers close up easily and fit into a small space about 2′ x 3′. Multiple room dividers can be nested together to save even more space when folded for storage. Dividers are simple to use allowing just one person to pull dividers into place.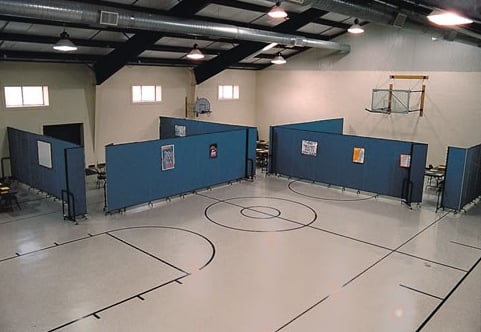 Gymnasium
Our dividers have wheels that are safe for your gymnasium floor. Screenflex partitions come with non-marking self-leveling casters which can glide effortlessly on softer floors like the ones in your gymnasium. They are safe on other soft surfaces as well such as most carpeted areas.
We also offer a free space planning service so you can accurately plan your rooms according to your needs. Take a look at a few floor plans that churches are using in their facility.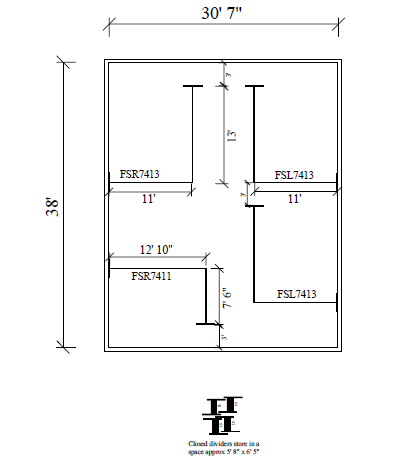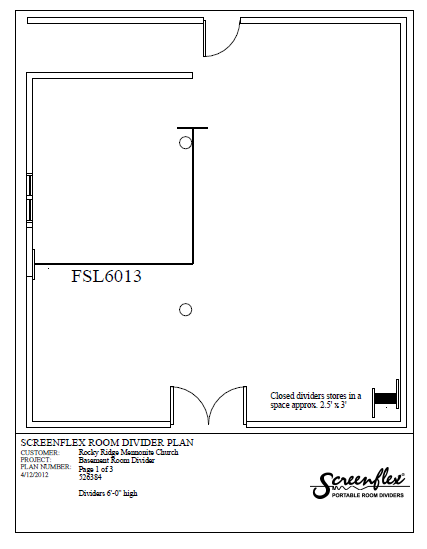 Here's what churches like yours are saying about Screenflex:

Pastor, Englewood, California
"I don't think we could have done anything that would have suited our purpose any better. I am sure that they will contribute to a great Sunday School program in our church. I would like to thank your staff that has been so helpful to us in this purchase."

Church Member, Austin, Texas
"The delivery went perfectly. We are using the extra Room Divider and truly love it; as it hides all of our chairs and other junk in the Fellowship Hall. We've been using all of the Room Dividers to hide extra chairs, a piano and a cupboard for dishes that were stored in our Fellowship Hall. We haven't had a chance to use it for any thing else, but I'm sure we could use it for an extra Sunday School room if we ever need one". 

CE Director, Childersburg, AL
"We did get the new Room Dividers in and it is doing a great job for us. It is easy to move around and it has also helped us with sound absorption in our fellowship hall. I will definitely keep you in mind when we get ready to purchase another set."

Sunday School Teacher, Tulsa, OK
"The Room Dividers have done what we needed them to do. They have significantly cut down on noise transfer. We use them in a gym setting so total noise control is impossible due to the high ceiling. Three classes share this space and the Room Dividers have worked quite well."
People who read this article, also enjoyed:
Room Dividers
Partition Walls