Is a Freestanding Room Divider Set Up In A Gym Soundproof?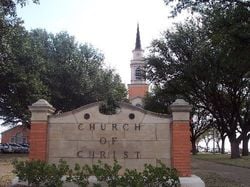 Johnson Street Church of Christ in Texas was starting to feel the pressure of tight quarters as their church continued to grow. With more members each week, their class was becoming way too large for the room they were meeting in. Since the church building didn't have any larger rooms, Chris Woodrow, Associate Minister, started looking into other alternatives.  He did not want to divide the class to accommodate the space, so they talked about using the church gym to create a large enough classroom to keep everyone together.
Ideally, Chris hoped to buy a divider or a wall that could create a room in the gym and keep the class together while still maintaining the other 1/2 of the gym for "gym time". This would mean that the product they purchased would need to be portable, durable, connectable, and able to control sound.
Screenflex was contacted and Chris ordered four 24′ – 1″ x 6′ – 0″ portable dividers with 13 panels. Problem solved. Now, members meet in a comfortably sized room, and the class is able to stay together. As more members join the church, dividers will be joined together to create any size room desired. When a full use of the gym is required, dividers store nicely in a gym closet. Currently, Chris uses 2 1/2 dividers to create his classroom in the gym and as the church continues to grow they can create one larger room or several rooms. Dividers are flexible and can be arranged and rearranged into many different configurations. Though Standard Room Dividers are not sound proof, divider panels absorb up to 65% of sound creating a nice barrier between the spaces. See below for a photo demonstration of how sound is absorbed.
All Screenflex dividers (excluding wall mount units) come fully assembled. Customers love that the dividers pull out of the box and are ready to use.
Chris Comments:  "The great thing about these partitions, apart from "shrinking" the gym to a manageable size, is that we can adjust the size of our "room" even with growing numbers! The partitions fit nicely in our narrow gym closet, easy to pull out and easy to put away. Also, the breaks in the panels make it easy to create a "hallway" while maintaining the "classroom" illusion."
 Screenflex Portable Partitions Inc.
Sound Absorption Information