7 Tips for Prepping your Church Event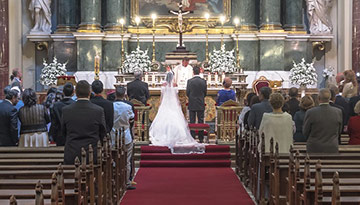 It's no secret that as a church leader, your congregation is so much more than just the Sunday service. Your facility also hosts a myriad of events from both the community and out-of-towners. With such a variety of people entering your space, there's a lot to consider in your preparation. Here are some useful tips to prep your space and maximize your church event. 
What are some common church activities?
Some common church activities or events include weddings, baptisms, and funerals. Not to mention, many congregations also have smaller internal events in addition to their Sunday services. Holiday services, Sunday schools, and other fellowship gatherings are a few examples. Since these types of activities may include different groups of people, the space needs to be adapted accordingly. 
Pre-Church Event
Can you imagine putting on a wedding, funeral, or baptism and not knowing how many people will be there? Before anything else, the first step to put on an event is knowing the guest list. While some church gatherings, like special holiday services, are not always subject to an RSVP list, most other events are necessary. Knowing the headcount needs to happen before all of the other logistics can be put into place. Though Mass is usually an open invitation, you can get a general idea by taking a poll at a service or sending out a newsletter that asks your members.
Prep the space for safety precautions
In any large number of people, safety precautions and contingency plans are essential. One question to consider during your church event is what are the capacity limits. Will some people need to go into an overflow room? Another factor that's important to consider is exits and emergency exits in a safety hazard. Use signage to direct the flow of traffic and portable walls to set the boundaries for the crowd.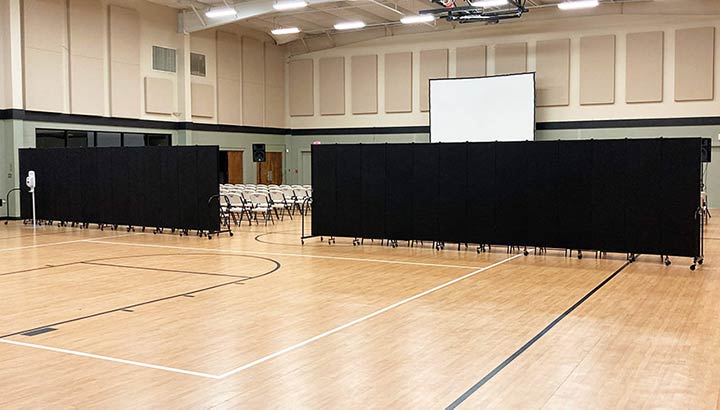 Set up seating arrangements
Are you hosting a wedding where everyone is watching a single point in the room at your church event? Or maybe your event consists of several smaller gatherings in a classroom setting instead–Either way, it is important to map out exactly where everyone can or should sit. For larger-scale events, make sure to delegate to others for help and position all of the chairs for their occupants to see.
Sometimes your church hosts banquets in your space. However, since not all churches have a kitchen, you may have to set up your own food area to maintain a professional appearance. Sometimes, you can have food catered to the facility and put them in a separate room. Or, if your space for the event consists of one larger multipurpose room, you can easily divide up the room with a partition. A freestanding divider, in particular, can create the most adaptability in your church while hiding the stuff you don't necessarily need to highlight to guests. 
During the Event
Prepare for the unexpected
Even for the most prepared, accidents can happen. For this reason, it is a good idea to have a backup plan in case of an unexpected event. Ensure to have a team around you that can handle tech or even impromptu flips of the space. Your space itself should also be adaptable enough to accommodate a fluctuation in the expected attendance. Portable or lightweight furniture can help quickly change around the space. Sometimes events even need to be moved into another room when there are schedule conflicts. Once you are prepared for these types of situations, the event can run as smoothly as possible.
Post Church Event
Store the chairs, tables, and other furniture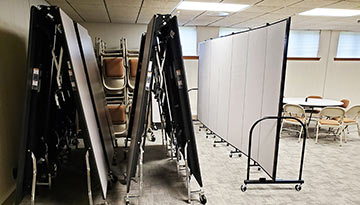 At any space that hosts numerous events, you should have a place to store the chairs, tables, and other furniture. Most facilities dedicate a whole room to their storage needs. However, it is possible to stack the chairs and tables out of sight in the corner of a multipurpose room. To keep the room looking tidy, use pipe and drape or roll a portable room divider out as a temporary wall. 
Flip the space for a new event
If your church has back-to-back events, such as multiple baptisms, then the next step is to flip the room to fit the next group of people. With your team, arrange the furniture and signage or decoration for the theme of the next group. Depending on the size of the events, schedule a team of 3 to 5 people to quickly reshape the space. 
A thriving church has lots of events to keep things exciting and fresh. While putting on any church event requires a lot of planning, the result can be a fun memory for your members and loved ones.
People who read this article, also enjoyed:
Room Dividers
Partition Walls