Senior Center Multipurpose Room Dividers
Senior care facilities are excellent resources for the elderly community. From social engagement to basic living services, these places really help seniors thrive. The Quinebaug Valley Senior Citizens Center serves ten towns in their surrounding community. They have also been designated as the community focal point for senior services by the Area Agency on Aging Senior Resources. Needless to say, they are an excellent place for their area's elderly population. Similar to any other senior care or assisted living facility, they needed their premises to be adaptable. In their multi-purpose room alone, they hosted several activities at once and were looking for a way to accomplish it efficiently. To adapt this multipurpose room, this senior center decided to use Screenflex Portable Room Dividers to section off portions of it. We spoke to Linda, the center director, who said these dividers were an excellent addition to their facility.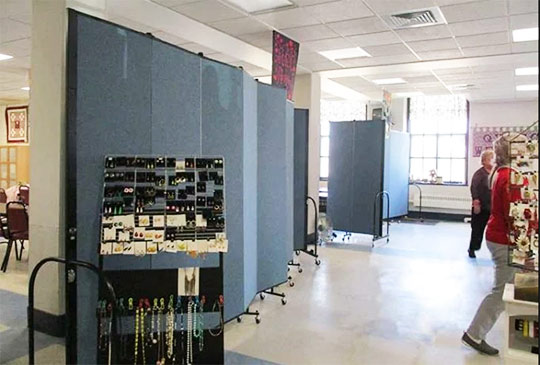 What Activities Does Quinebaug Valley Provide?
In short, anything that helps seniors with the aging process as gracefully as possible. This includes a variety of both individual and group activities. While she mentioned that it is not a comprehensive list, Linda's examples of the center's services included:
Health and Wellness
Intergenerational Activities
Employment
Transportation referrals
Volunteer Opportunities
Educational and Entertainment Programs
Financial and Benefits Assistance
Meals and Nutrition
How the Pandemic Changed Their Day to Day Life
While many businesses and facilities have created stricter regulations in light of the pandemic, none are quite as severe as senior centers. In the most extreme part of the lockdown, assisted living facilities across the country didn't even allow their members to leave their rooms or personal quarters. This tactic occurred because the elderly are some of the most at-risk for fatalities with this virus. Therefore, their living situations need to limit contact with others to prevent germs from spreading. In the case of Quinebaug Valley, they had to close their doors entirely for the better part of this pandemic. It was only recently when they were able to reopen again and for only a small group of people at a time.
Use of Room Dividers
Splitting up their Multipurpose Room
Originally when Linda purchased the room dividers for her facility, they were meant for Quinebaug's large multipurpose room. Since this facility hosts so many activities and services for their seniors, there would sometimes be schedule conflicts. They planned to host lunch, exercise, and AARP Safe Driving Course in the multipurpose room at the same time and separate each area with the Screenflex Room Dividers. Since our products are portable and fold accordion-style, they can easily shift to another spot in the room and store compactly. These features helped give them the flexibility they needed.
Social Distancing
Since they reopened after the pandemic started, their temporary walls now serve a slightly different purpose; social distancing! Quinebaug Valley has pivoted their services by limiting the number of people they allow in their space at one time. Using the room dividers, they can create crowd control and limit the number of people in a "room" for certain activities. While the office staff continues to work with seniors over the phone, they hope to soon begin seeing individuals face to face for their benefit programs. By using both portable walls and plexiglass partitions, and including other safety measures, they will be able to safely house their seniors in the facility.
Flu Clinic
Linda also mentioned that one of the first activities they put on since opening back up was a flu clinic. Their Screenflex dividers came in handy for this event. The partitions separated the tables designated for seniors to fill out their paperwork for their flu shots. Then they administered the shots in a separate meeting room. In between those receiving the shots and the others in line was another Screenflex partition.
Quinebaug Valley Senior Center is a wonderful resource for those in the northeastern Connecticut area who need aging assistance. We are happy that our dividers not only helped adapt this senior center's multipurpose room in normal times but also during the pandemic as well. When we asked Linda what she thought about Screenflex Dividers, she said: "The room dividers are perfect for our needs. We are very happy with their quality and the level of service we received from Screenflex."
People who read this article, also enjoyed:
Room Dividers
Partition Walls