Kitchen Room Dividers - What a Great Idea!
We hope to provide helpful ideas & tips on how you can use your Screenflex room dividers by presenting you with case studies that are comparable to your needs. Portable room dividers are not for just dividing space anymore. Churches, schools, and businesses are very interested in a product that can multitask, especially with today's economy. Helmer United Methodist Church (UMC) found that Screenflex portable dividers could do just that. Multitask!
Donna, Helmer UMC's pastor knew that looking for furniture items for her church could be time-consuming and overwhelming.  There are so many products on the market. Donna wanted to find a divider or something that could block off and separate a kitchen area and fellowship hall.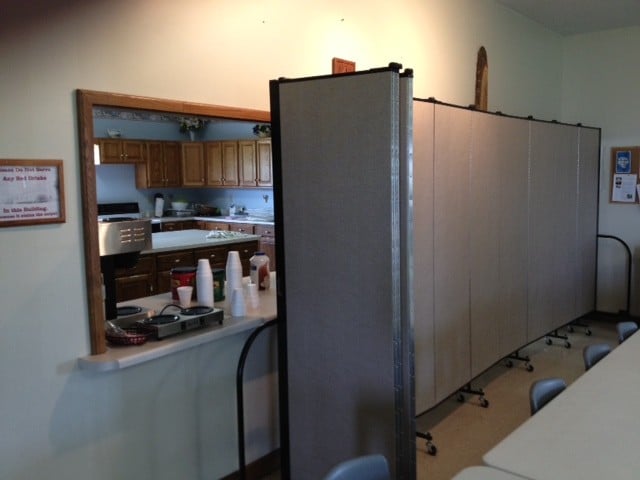 As Pastor Donna searched for a divider, she asked members of her congregation if they knew about any good products that could help to separate the areas.  Several teachers and administrators who had used Screenflex as well as other dividers before suggested that Screenflex was the way to go.
Donna presented both Screenflex and another room divider brand to the church and they chose Screenflex. Donna explained they chose Screenflex because of the superior quality of our product. Our dividers are designed for maximum stability and they just like the features better than the other product. She liked the full-length piano hinges as well as the self-leveling casters.
For convenience years ago, the church added a somewhat large opening/window to the wall between the kitchen and fellowship hall, to enable quicker and more efficient food service during large events. The window has worked out wonderfully, however, the sound was a bit of a problem. Several months ago, Helmer UMC hosted a funeral luncheon in their fellowship hall. The noise from the clean up has always been an ongoing problem and they are always forced to wait until the luncheon is completely over before they could start cleaning up. This time was no different.
After receiving their Screenflex divider, the members of the church were surprised with how much sound the dividers absorbed. Clean up is simpler and now the cleaning crew can work while the luncheon or dinners are finishing up (See photos below).
Helmer UMC started finding other uses for their partition. Small group bible studies take place weekly. The divider can be set up to create a cozier area for a private bible study.
Storage was a concern for Donna and the members of the church questioned that if the size of the dividers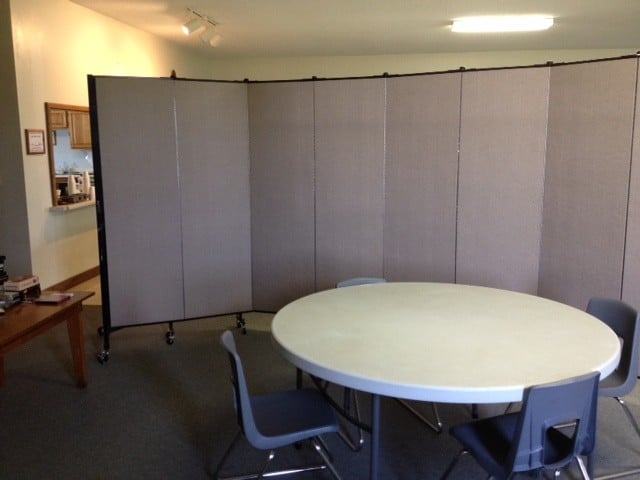 are as large as they are, it must take up a lot of room to store. They were surprised that a 24′ long by 6'8″ high divider could fit in a footprint as small as 2.5′ x 3′. The divider stores nicely in the corner of their fellowship hall.
Donna comments:
"We looked at a comparable room divider but found that there was no comparison. We are happy with the quality of the Screenflex dividers. The hinges are better than the other dividers we were looking at. The other divider had a door like a hinge that we didn't like. We also wanted anyone to be able to grab and roll the dividers which they can.  The partition is in use and it is perfect. We use it to divide a large room each Sunday morning, making it into two Sunday school classes. We had a funeral last week, so it folded up and went into a corner and nearly disappeared. We just love the quality of construction, the way it folds up so small and it's so easy to move about. Can't say enough good. "
Donna's words are a great testament to the quality and functionality of Screenflex Portable Walls.  Helmer UMC illustrates the ease of finding and purchasing Screenflex portable walls, and how the divider she purchased is the perfect fit for their church.
People who read this article, also enjoyed:
Room Dividers
Partition Walls