Room Dividers for eSkape Bowling & Laser Tag Children's Party Facility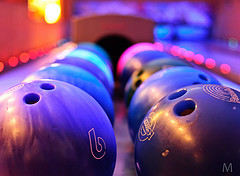 My son was invited to a couple of laser tag birthday parties at eSkape last month. There's no better place for a kid to release some energy than at eSkape. Kids run around in a dark arena up ramps and shoot at their peers to earn the most points and win the game. They really work up a sweat. At the end of the party, they get to eat pizza and play video games.
When I went to pick up the boys, I noticed that one of our Screenflex portable room dividers was in use, I asked the hostess if she could fill me in on how the dividers were helping them. She told me that they purchased 3 dividers and use them a lot to create smaller party spaces when they need them. It was fun to see another facility using Screenflex to tailor make their space.  I liked that since I wasn't expecting to see them there.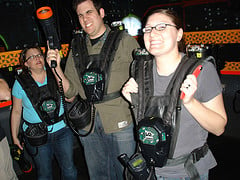 We talked a bit more and the hostess told me that they also used the dividers during Bar and Bat Mitzvahs. Bar and Bat Mitzvahs are a Jewish coming of age ritual that takes place at the age of 13 for boys and age 12 for girls. The ritual represents responsibility for the child's actions.  Prior to the Bar or Bat Mitzvah ceremony, the parents are responsible for their child's actions. Following the religious services, it is not uncommon for the family to throw a party in celebration of their child's achievement. eSkape offers a 60,000 square feet arena to accommodate all types of functions, and they hold many Bar and Bat Mitzvahs there. eSkape uses Screenflex dividers before dinner starts to keep the kids out of the buffet. The hostess said that she has been there for over two years and what she likes most about the dividers are their portability.  She likes how easy they are to use and fold up and that they store easily in their storage room.