Screenflex Moveable Portable Walls at the Antioch Taste of Summer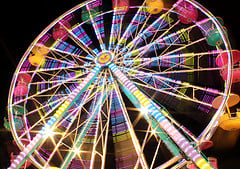 Screenflex Portable Room Dividers made an appearance on stage during Antioch's Taste of Summer Idol Semifinalist performances.
Over the weekend, thousands of people joined in the fun at the Taste of Summer Fest. Great food, exhilarating rides and the kind of music that makes you want to get up and dance were enjoyed by all! And if you like 80's music, you would definitely be singing and dancing with Hi Infidelity (Saturday night's rockin' band).
Karen, one of our Screenflex girls met up with some friends at the Fest on Saturday. Karen comments, "Fun night! The food was really good. The band was awesome! I was dancing with my friends when I noticed the divider folded up to the right of the stage. I was wondering what they were going to do with it. After the band finished their first set, a girl pulled the room divider open across the entire stage. Several of the Antioch Idol's Semifinalists performed in front of the room divider while the band took their break. This is a great example of how Screenflex Room Dividers work".
Antioch Idol's Semi-Finalists performed their songs in front of the divider while Hi Infidelity broke for a few minutes. The 8′ high 11-panel divider worked as a nice barrier between the two performers. Not only did the divider work as a backdrop for Antioch Idol performers, but also as a protective barrier to safeguard the equipment already on stage.
Standard room dividers can create an infinite number of configurations for your space dividing needs. Dividers come in 6 heights from 4′ tall up to 8′ tall with 6 different lengths to choose from. That's 36 options to divide your space any way you need to. Divider panels are easy to display on. Panels accept tacks, push pins, and staples. You can even hang artwork or framed art on your room divider panels.
People who read this article, also enjoyed:
Room Dividers
Partition Walls