Free Lunch for All: Really?
Will there be a free lunch, after all? Nearly fifty years after novelist Robert Heinlein popularized the phrase, "There ain't no such thing as a free lunch," it appears as though school children across the U.S. may indeed find that there's not only free lunch but free breakfast as well.
The Healthy, Hunger-Free Kids Act, promoted by First Lady Michelle Obama, has already generated substantial debate due to its healthy foods requirements. Students don't like the food, and there is growing evidence that calorie counts are too low for at-risk students. "If a child lives in a food-insecure home, a limited calorie school lunch may actually put the child at greater risk." Advocates of the CEP suggest that providing free breakfast and lunch will address that problem.
Under the CEP, schools with more than 40% of their student population are eligible to receive federal funding for providing free meals. Families have to be at
What are the realities of a national free lunch program? Who benefits? Who doesn't?
On the surface, the benefits of a national free lunch/breakfast program are obvious.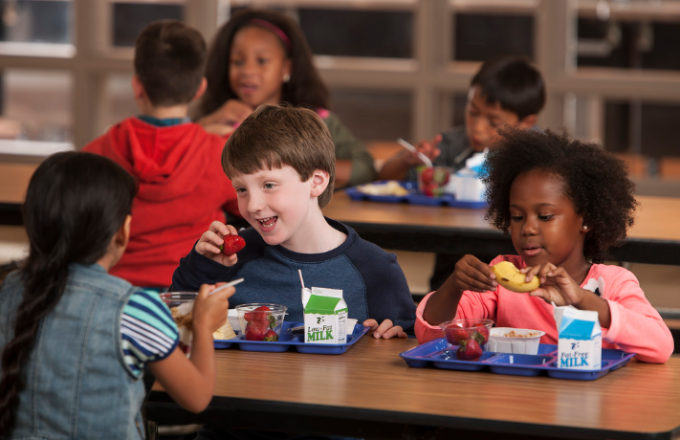 Every child will have a healthy breakfast and lunch. There will no longer be concerns that students come to school without breakfast due to a family's financial situation. Additionally, even when income is not an issue, some students don't get breakfast because a parent is not home when the child leaves for school or the parent(s) are just too busy getting out the door.
No child will be singled out as "different" because he or she receives a free meal. It is difficult to be identified as "different." In many cases, schools have opted for school uniforms as a way to eliminate competition and comparisons based on clothing.
Research indicates that children who have breakfast and lunch perform better in school. Children who are hungry have difficulty concentrating on their work. Students who aren't suffering from hunger perform better, are better able to concentrate and have fewer discipline issues.
Schools cite additional benefits.
Reduced paperwork – income verification is not required from families
Simplifies meal counting and the claim process
The potential for labor savings
The program seems to have a few disadvantages. However, like any sweeping federal program, it's not a case of one size fits all, and not everyone is an advocate.
What are the arguments against the program?
Increased costs: In New York City public schools, an estimated 50% of qualifying families did not apply for the old subsidized lunch program, for a variety of reasons. Adding free lunch for just those non-reporting families would have cost the district an additional $40 million. But with no application required, the district receives federal funding for all of those students. Before CEPs implementation, federal spending on free and reduced lunch programs just over $10 billion. Adding just three additional states drove that total to nearly $12 billion. Providing free breakfast and lunch for students, regardless of need, will lead to significant cost increases.
Wasted taxpayer dollars and resulting taxpayer anger: It is difficult to make an argument for providing free meals to students whose families are not experiencing serious financial hardships. Students who come to school hungry really do have a harder time learning. But it is unreasonable to provide free meals for children whose families are able to pay, just because it's more convenient for the schools.
Inequities across districts: Not every school in every district will qualify for the program. Some districts cover a wide range of household income ranges. Taxpayers whose schools do not qualify will absorb the cost of providing free meals to students in schools their children don't even attend.
Issues the Program Doesn't Address
One argument in support of providing free meals to students without requiring the school to identify the student is that it reduces bullying. However, in the majority of schools where the CEP has been implemented, at least 65% of the students receive free or reduced-cost lunches. They make up the majority of the students. In addition, if students are being bullied, it should be the school's responsibility to address this behavior issue. Anti-bullying initiatives are common in schools today; students and educators alike should be aware that a student's financial status is no justification for ridicule.
More than 50% of children in this nation are on some sort of free or reduced lunch program. What's wrong with this picture? Why aren't we living in an economy where families are able to provide for their children?  A recent debate in many states and at the national level has focused on raising minimum wage levels. If everyone who currently works for the minimum wage saw that rate increased to $20/hr, it would greatly reduce the number of families qualifying for federal assistance.
It's difficult to argue against providing meals for children who, through no fault of their own, don't have enough to eat.  Ample data suggest that children who aren't hungry are more likely to be successful in school. Education is the most viable means for these children of breaking out of poverty, of having the opportunity for a bright future. It is impossible to wish for anything less for any child. However, to do so via another gigantic federal spending program that requires little in the way of oversight and fails to address real issues is just another band-aid on the way to further government dependence. How do schools have any hope of developing independent, critically thinking adults when we constantly tell them, "You aren't able to take care of yourself? Let (insert government agency here) do it for you." Yes, let's provide for those children who genuinely need help. But let's do it in a way that encourages personal responsibility on the part of students, parents and school districts alike.
source: No Kid hungry.com Survey of teachers
People who read this article, also enjoyed:
Room Dividers
Partition Walls