Tiller School uses Temporary Classroom Dividers to Best Serve Students
Tiller School in North Carolina is an award-winning, tuition-free public charter school focusing on the social and academic excellence of its student body.  For over 20 years, Tiller School has experienced steady growth in enrollment and reached maximum capacity during this school session.  Specifically, the school has seen a growth in its Exceptional Children (EC) Classroom.  EC gives help to children with disabilities and helps them reach their full potential.  "This program now requires two full-time teachers.  We are space-limited and have to share a classroom originally intended for use by one teacher.  In addition, our students are extremely sensitive to distractions," comments staff member Mike Easton.
Versatility
After researching several temporary classroom dividers, Tiller School reached out to Screenflex. They were looking to divide a classroom into two and cut both visual and audible distractions. "Our room dividers create two equitable, semi-private workspaces for my partner Exceptional Children teacher and I. We can close it when we both have small group instruction, or partly open it when we have a joint planning period. We fold the temporary classroom dividers all the way when we have holiday parties for students or special events. On my side, with limited wall space, I use the divider to display students' pictures and work samples. It is useful and attractive and we love it!!" adds Easton. Additionally, because the sturdy divider has a honeycomb core and two layers of environmentally friendly fiberglass insulation, it is sound absorbent and lessens distracting noises.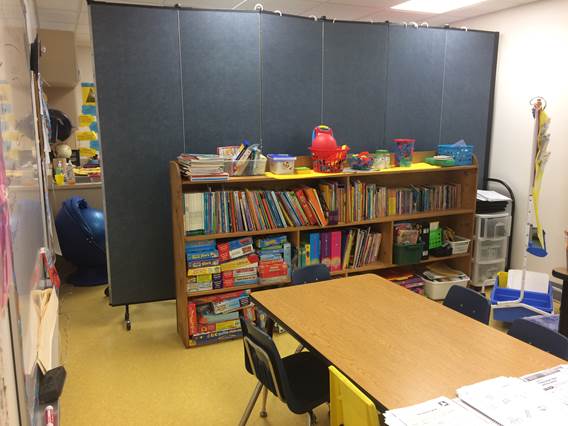 While the school's main reason to purchase the temporary walls is to create an extra classroom in the EC program, they quickly found additional uses for the portable wall.  Easton explains, "When the need arose to provide privacy for a staff benefit, our Executive Director borrowed our divider for the day.  It folded up easily and was simple to roll to the location where it was needed.  It provided a perfect solution to a temporary problem, as well as a wonderful solution to our long-term solution in EC."  The school Director loves knowing that she can easily use it anywhere on campus.
Quality
"There is nothing out there even close to the quality of craftsmanship that Screenflex offers. I like buying U.S.-made products, and your company genuinely seems to take pride in each divider built," remarks Mike. In fact, each Screenflex room dividers are custom-made to your size, fabric choice, and added feature options. This attention to detail ensures a durable and versatile room divider built to withstand repeated use for years to come.  Mike adds, "I feel good about our Screenflex classroom dividers being safe and confident in its sturdy construction. I love its portability, attractiveness, and usefulness in our room.  But my favorite feature is being able to easily staple student photos and work to it with no damage done."
With its use of portable partitions, Tiller School can serve its growing student body with quality space and resources.
People who read this article, also enjoyed:
Room Dividers
Partition Walls