Even during a busy Memorial Day weekend, you can find the staff at Lincoln Park Zoo's Regenstein Center for African Apes and the Lester E. Fisher Center for the Study and Conservation of Apes researching the Apes' behaviors.
In order to observe the apes' actions in their purest form, the zoo must limit distracts that would scare the apes or alter their behavior in any way.  Lincoln Park Zoo soon discovered that Screenflex Portable Room Dividers as the best solution in helping them eliminate distractions resulting in more accurate research results.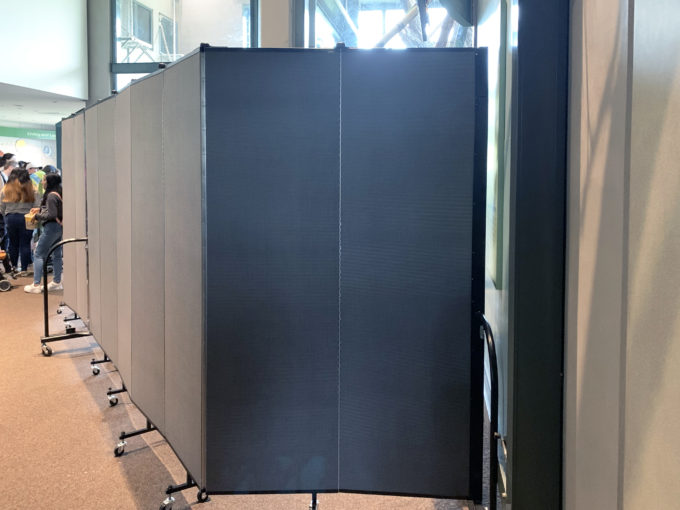 As seen in these images, the staff arranges the portable walls around the perimeter of the apes' enclosure.  The design of the Screenflex walls and the full-length hinges between the panels eliminate light and vision between the panel walls which completely block distractions into a portion of the 29,000 square feet of living space for the apes.  On the opposite side of the room dividers, researches sit on a simple chair with a pen and paper in hand, to observe the apes' behavior.  While taking copious notes on the advanced knowledge of the apes' mannerisms, and the way they interact with their habitat, the staff cannot even hear the guests touring the rest of the attraction since the portable partitions' baffles trap ambient noise.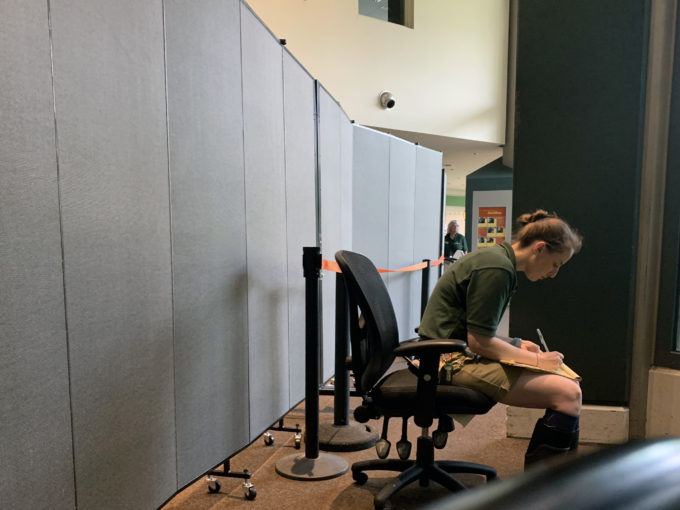 Screenflex dividers are constructed for ease of portability and free standing. The staff can feel confident in placing these stable dividers in high activity areas and heavy crowds and be assured the dividers would keep upright and in good condition. Since Screenflex room dividers are movable, the team can alter their placement every time they want to observe a different exhibit. If you don't need the dividers, they can set them aside and use it again in a moment's notice.  Additionally, the fabric portable walls are tackable making it easy for Lincoln Park Zoo to place exhibit updates and notifications on the room dividers.
Screenflex is proud to be helping Lincoln Park Zoo with their ongoing research efforts of its three spacious habitats.
People who read this article, also enjoyed:
Room Dividers
Partition Walls