Superior Room Dividers with Top Notch Customer Service
Even though there are a lot of partitions on the market, how do you know which one is best for your facility? Here's how Screenflex provides the most superior and adaptable room divider for any industry.
Top-Notch Customer Service: Have you ever sat on the phone for what seemed to be hours or been transferred from department to department to find out the only person who can help you is on vacation! How frustrating, right? Well, here at Screenflex we know your time is precious, and we strive to answer your questions as quickly and as thoroughly as possible. Whether you need assistance with parts, shipping or pricing, we are here to help.
You may contact us by web request, telephone at 800-553-0110 or email [email protected].
Superior Products:  Our room dividers are made to last! I have listed some of their many great features below:
Sound Absorbing
Durable Acoustical Panel Construction
20 Gauge Powder Coated Steel Trim
1/2″ Closed Cell Honeycomb Cor
 Non-woven Fiberglass Facing
20 Gauge Galvanized Steel Frame
10-pound Fiberglass Matte accepts tacks/push pins/staples
Fabric/Vinyl Covering 38 colors in stock
Hinges top to bottom
Locking End Casters
Position Controllers to secure panels in place
Last but not least is our patented End Frame for maximum strength and stability
Don't be fooled, our Screenflex room dividers are the best on the market! Watch this short video before making your decision to purchase a room divider.
Friendly Sales Consultants: Our sales consultants are happy to answer any questions you may have regarding the height, length, color, dimensions, delivery, and pricing of our Screenflex Room Dividers. We want to make certain you are ordering the correct product for your application. We enjoy speaking with people from all different types of organizations – Churches, Schools, Medical Facilities, Factories, Fitness Centers, Corporations, Government Facilities, and Hospitality Facilities. It is our pleasure to help you make an informed decision.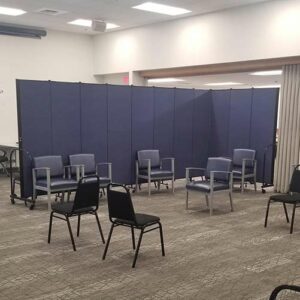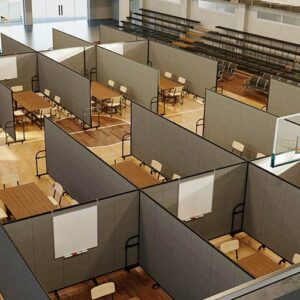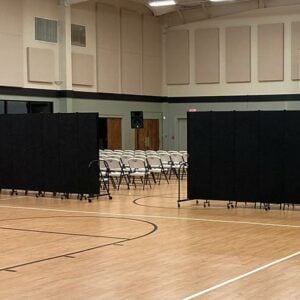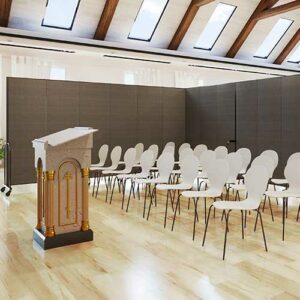 Professional Space Planning Department:  We will create a design per your specifications.  All you have to do is sketch out your existing room dimensions, show us where in the room you would like the portable classrooms, and provide the dimensions you would like the classrooms to be.  Our Design Team will create the space plan for the most superior room divider that is perfect for your particular needs – Free of charge and with no obligation!