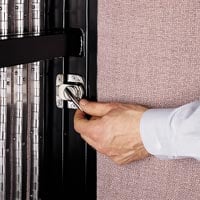 Screenflex ~ Screenflex Multi-Unit Connector Option
The Screenflex Multi-Unit Connector option, also known as "Gang Locks", is used to connect two dividers together end-to-end. They are two chrome plated sash latches installed on the end frames of the portable room divider. Chrome plating is a technique of electroplating a thin layer of chromium to a metal object. The chromed layer can provide corrosion resistance, ease cleaning procedures, or increase surface hardness.
The latches can be added to several units to make a longer span. The connectors are also used to attach a door to the end of a unit or attach the unit to a wall frame.