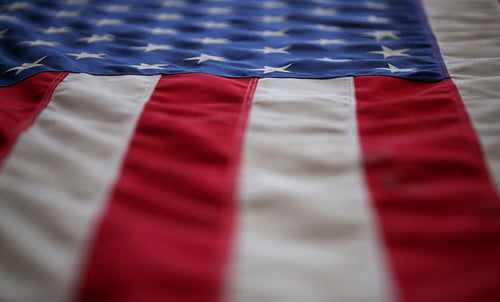 There's a story behind the American flag which hangs in the Screenflex mezzanine. Overlooking production, we proudly display the American flag to remember our devotion to our country and Uncle Joe.
Uncle Joe, a part of the Maas family, returned to Northern Minnesota after the war where he proudly served our country during WWII. We thank you, Uncle Joe, and all of the soldiers who have served and are serving to protect our country. This blog post is a salute to you, Uncle Joe.  Not only did you serve to protect our country, you touched many lives as a man with strong faith and a caring and helpful nature.
Rich remembers Uncle Joe's Tuesday night visits with the family. They enjoyed many activities together one of his favorites included fishing. Rich recalls at the age of 7,  fishing trips to the Vermillion River. On this one particular trip, his father lent him his new Pflueger Supreme reel and rod. Rich remembers wanting to catch the biggest fish in the river.  In order to catch the biggest fish in the river, he would cast his line way out as far as it could go he could get closer to those really big fish.  He counted, one, two three, cast….oops! The entire reel and rod released from his hands and into the river it flew. The only thought running through Rich's head was, "Will I see my 8th birthday"? He was scared but Uncle Joe acted quickly. Using a grab hook, Joe pulled out that reel and rod from the river. Rich was extremely grateful. He thought he would never see his dad's new reel again.
About 30 years later, the family got together to celebrate a 50th wedding anniversary. After lots of celebrating, Rich brought up the Pflueger Supreme in the river story. His dad never heard of this story. Uncle Joe kept his secret for all of those years. Rich told his story to his dad and they all had a big laugh.
Uncle Joe was a big Bears and Black Hawks fan. He held season tickets. He truly enjoyed watching the games. In his earlier days, Joe played baseball. A leg injury during the war made it difficult for Joe to play ball in later years however he coordinated all of the tavern league baseball games.
Joe, we salute you!