Screenflex Teams up With Quentin Road Christian Preschool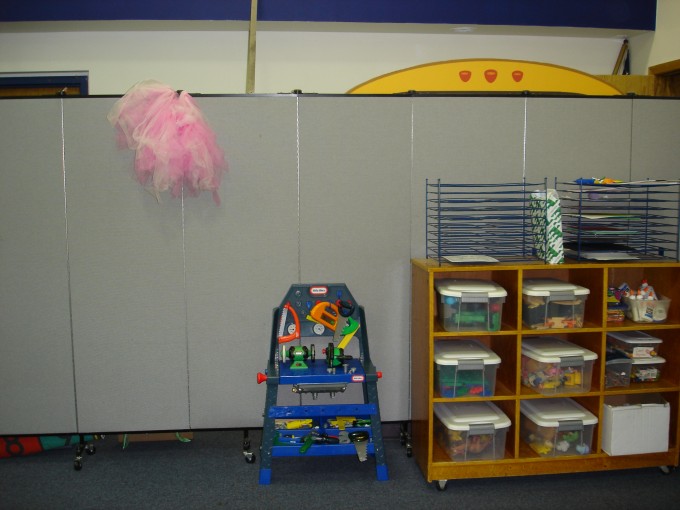 Screenflex Portable Room Dividers has helped churches and schools with many of their room divider needs.  In 1998 Quentin Road Christian Preschool expanded their space to accommodate an influx of students.  With an increased enrollment, Quentin Road found it necessary to annex a new sanctuary as well as four preschool classrooms. Portable room dividers helped to create more space and gave Quentin Road other possibilities they didn't know they needed.
Since both of my kids attended Quentin Road Christian Preschool, I was interested in getting more information about how our portable room dividers help them.  Over the years, Quentin Road has used Screenflex room dividers for a multitude of reasons.
After adding the four classrooms, one of the rooms contained two doors.  The classroom connected the preschool front offices and the new sanctuary.  The two doorways were accessed through the one classroom which posed a small problem.   In order to get from the preschool to the sanctuary, there was a bit of a disruption to the class when the entrance was used.  A plan was made to add a Screenflex room divider to create a hallway.  The hallway was the perfect solution.
Flexible Solutions for Dividing Space at Quentin Road Christian Preschool
Quentin Road solved another issue by using one of our room dividers in the pool area.  A water spigot on the wall was a bit of a hindrance to the students.  By placing a Screenflex Room Divider in front of the water spigot kids were deterred from playing with the spigot and possibly hurting themselves.
Quentin Road nursery started in one large room.  As the school expanded and enrollment increased, the nursery had to accommodate more children. Portable room dividers helped separate the sleeping babies from the playing babies while dividing the space temporarily.  Problem solved!
Several years ago Quentin Road started offering in-house tutoring services to their students.  Screenflex Room Dividers create temporary private classrooms to accommodate one-on-one tutoring.
Quentin Road also used Screenflex room dividers in their college dorms, Dyslexia Solutions and in the pools waiting/viewing room.
Thank you, Quentin Road for creating many uses for our room dividers over the years.  We hope it has helped you to accomplish many of your room divider needs.