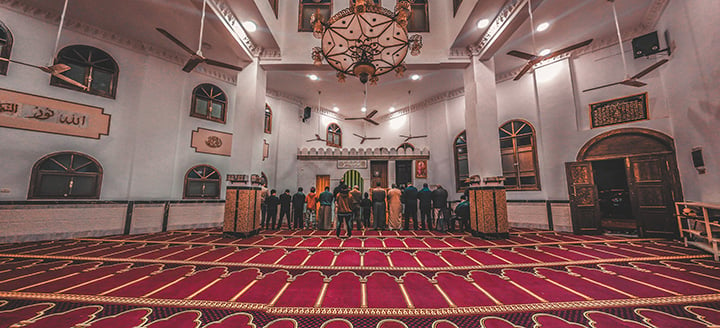 With roughly 1.8 billion worshippers of Islam, it is just behind Christianity as the 2nd largest religion in the world. This religion originated in Makkah (Mecca), Saudi Arabia– known as the birthplace of the Prophet, Muhammed, and has since expanded all over the world. Though most of the mosques in modern society now reside outside of Makkah, they still have the same spiritual practices. One of our customers, Ali Nizamuddin, at the Islamic Society of Greater Springfield in Illinois, recently gave us feedback on our room dividers in their mosque. He specifically had this to say about Screenflex partitions in their space:
"These are the most amazing room dividers that are absolutely ideal for our community center. They are extremely easy to assemble and just as easy to fold back up. This provides much-needed privacy to the ladies at our mosque. We can wheel them out of the gymnasium easily so that the kids can play. [Screenflex's partitions] are a superb product that we use to divide the space between the men and women so that everyone has privacy during the prayer and dinner."
Since Ali left us such a well-thought-out review, it inspired us to dig more into the Muslim prayer culture in general. As a result, here are some of the standard guidelines for praying in a mosque.
What Day Do You Go To Mosque?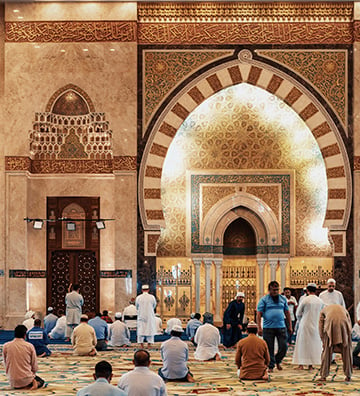 The most commonly encouraged day to attend communal worship is Fridays during midday prayer. However, people of the Islamic faith can do any of their five daily prayers at their local mosques. Not every practicing Muslim goes to their mosque every prayer or day, but generally, the most attended prayer time is midday.
Dress Code
Islamic believers generally value modesty and good hygiene in their dress code and way of life. These concepts are especially true in their worshipping space.
Modesty
Modesty is critical when it comes to the dress code in a mosque. During prayer time, a Muslim will wear loose-fitting clothing covering the arms and legs, regardless of their gender. Some mosques will ask their women visitors to cover their heads as it is usually respectful of non-muslim women to wear a hijab when visiting a mosque.
Cleanliness/ Good Hygiene
In addition to modesty, another essential value is cleanliness. Regarding the dress code, no shoes are allowed in the mosque. For this reason, ensure you wear clean socks or stockings when arriving. This rule helps keep the worshipping space clean by not tracking outside dirt. Also, for cleanliness, most mosques do not allow any food upon entry.
Muslim Prayer
A Muslim prayer involves a sequence of movements, including kneeling and bowing. Meanwhile, they are prostrating, a practice that humbles the person praying and offers praise to Allah. If men and women are worshiping simultaneously in a communal setting, they must be separate from each other. This practice allows privacy to each gender and helps them limit distractions from their prayers.
Prayer Room Design
The prayer room in a mosque can look different from place to place, but they do have some general similarities. Typically, these rooms will have little to no furniture, with open and carpeted flooring space. Every mosque has a qibla wall that faces the direction of the mecca in Saudi Arabia. The qibla is what they face while doing their prayers to signify that they are worshipping the birthplace of the prophet, Muhammed. On this wall, a mihrab will be in place to indicate the direction of the qibla. A mihrab is an arch or a pointed arch as the focal point for prayer. Since the mihrab is an integral part of Muslim culture, it is generally designed with great care and detail.
Regarding gender separation, mosque leaders typically put men in one room and women in another. For another solution, some mosques will place a partition in between, as Ali mentioned above.
Here at Screenflex, we love to hear about our customers' facilities and their practices within them. Through their review and further research on our end into this culture, we were delighted to hear that our dividers could add some value to the Muslims in this mosque.
People who read this article, also enjoyed:
Room Dividers
Partition Walls