IKEA Hack - Entertainment Center Dubs as Children's Play Center
UPDATE This blog post won a spot on the IKEA Hackers website on January 27, 2013!  If you've come to our site from there, welcome and thanks for stopping by!  Feel free to browse our many blog posts.  We write about not only our room dividers, but also about education, religion, children, and life in general.  
Creating an IKEA hack instantly came to my mind when I needed to create an entertainment center for my home.  The central room in my house is where everybody wants to hang out.  A family room that is very aptly named because you'll always find our family there. We watch TV there, we entertain there, the children play there, and often we even end up eating in there as well.
Let the IKEA Hack Begin!
If you live with young children I'm sure you can relate to cleaning up in a hurry when guests stop by. We are constantly stuffing their toys, blankets and loose articles of clothing in closets and drawers every time someone visits. And when you want to entertain, it's hard to have your home not looking like "Romper Room" when the guests show up.
With this in mind, I finally stopped trying to get the kids to play elsewhere (the TV's a big draw), and set out to convert the room into a dual-functional space for all of us.
My wife's criteria for the entertainment center were that it had to be attractive and have an adult look, but could also dub as kid toy storage and for play.  My criteria were that it wouldn't break the bank or cause me a lot of work.  Using some Ikea cabinets,  a little ingenuity and craftsmanship, I came up with the following Doctor Jekyll and Mr. Hyde entertainment center shown here.
The Finished Products
How'd He Do That?
I created this cabinet debauchery by mounting a small upper Besta cabinet (meant to be a lower cabinet with legs) to my wall and affixing caster wheels to two free rolling "hinged" Expedit cabinets (meant to be tall vertical shelving units) below. By leaving the backs of the cabinets open, I was able to give the kids access to toys, that could quickly be stuffed away when returning the room to normal.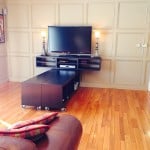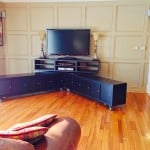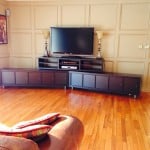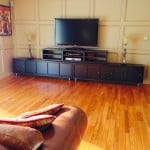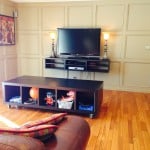 For the lower cabinets, I started by screwing four large Rill casters to the sides of each unit, which would become the bottom, of the two Expedit units. I added a set of hinges, that I spray painted black, to the ends so they could be open as one long unit, or be hinged closed to form a wider, but shorter play unit. Underneath I screwed in a window sash latch to keep the units together when set up for the kids (I didn't want any small fingers getting pinched).
When I put on the optional doors I did a little modifying. I wanted to recess the doors by 1 inch, so that the knobs wouldn't stick out, preventing me from folding the two units together. I also wanted to remove the "backs" of the door boxes so that I would have open cubbies from the back sides, which would become the front sides once the units were folded together. I cut off the back of the door boxes an inch from the sides with a straight edge and several passes with a matte knife, then screwed them on, inset one inch.
Mounting the Besta unit to the wall was the most challenging part of the installation. Although the Besta comes with steel brackets made for securing it to a wall, it wasn't meant to support it, hanging cantilevered off the ground and supporting a 52″ TV, DVD player and two heavy lamps. So I threw out the small mounting screws and purchased 4 heavy-duty "toggle bolts" from my hardware store and attached the unit about 1/2″ above the rolling base units. I bolted it tightly along the top inside edge. The finished look gives the impression that the upper unit is resting on top of the base units. But, when the play center is rolled out, the toggle bolts perform admirably supporting the piece with a gravity-defying illusion.
Just for fun, I added an unbreakable Fillsta lamp and the play center was complete!  My kids love it and it stores easily into one of the cubbies.  
My next weekend project is to find storage baskets to fit the inside of the cubbies.  The nicest part is that the cabinet doors actually open, so we can reach anything on the inside of the cabinets from the front when it is acting as an entertainment center.  One day, when we don't have toys to deal with, we can use it for more grown-up storage.
Whose Play Date Is This Anyway?
Then, when my wife has the neighbor lady and her child over for a playdate, the two women sit at my kitchen island and have a glass of wine, while the kids play.  A Screenflex room divider provides a visual screen so the kids aren't constantly interrupting their moms valuable "relaxation" time.  The nice thing about this screen is, when we're not using it, it folds up and stores away in the closet or a corner of the garage.  We've used it in our basement too.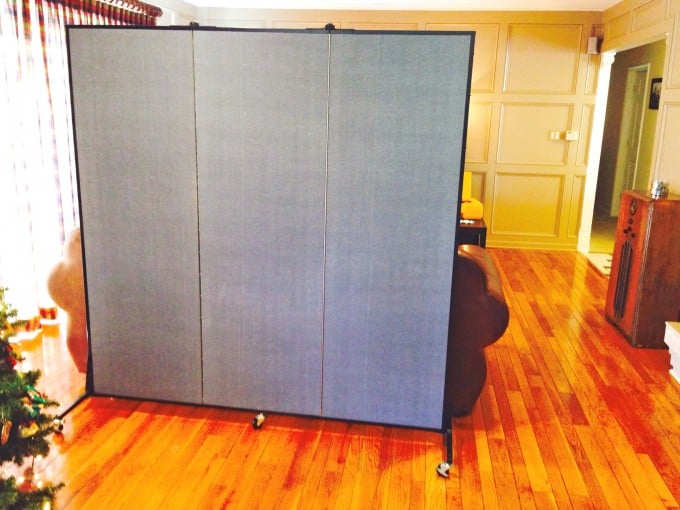 If you have any questions about how I did this, just shoot me a question in the comments and I'd be happy to answer!
People who read this article, also enjoyed:
Room Dividers
Partition Walls