Business Growth Without Building Expansion
Nothing is better than a thriving business.  Especially one that started in your parents' garage.  Adobe Creek Brewing owner received a home brewing kit for the holidays and began home brewing.  After finding success in homebrew competitions, Johnathan MacDonald began his adventure of opening a brewing company amongst the hills of Marin County, Ca in 2017.
What began as a small distributor to local retailers, quickly grew as the locals began requesting tours and the ability to host events at the popular brewery site.  In response to many requests, Adobe Creek Brewing opened its doors to the public in 2019.  But before this could happen, there was much debate about the best way to use their current facility to preserve the brewing process and space while allowing the customers to view the brewery.  Since this was still a new small business, the owners looked for simple and effective ways to modify their current space without the expenditure of construction costs and permits.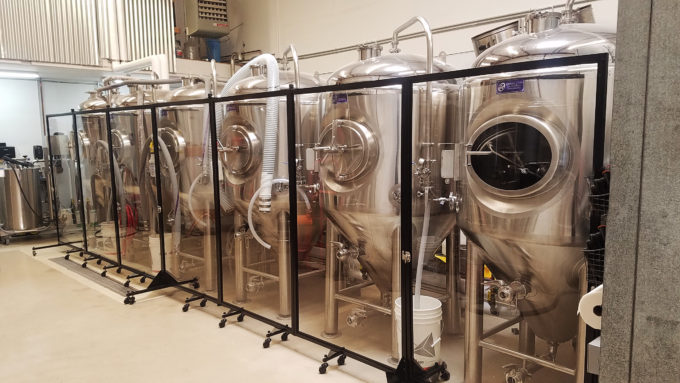 The managing team began their search for a portable see-through wall and soon discovered the Screenflex Clear Room Divider as their best option for modifying their existing space.  "The Screenflex Clear Room Divider is a mobile divider that shields our fermenters but allows our customers to pass through the brewery to access the restrooms without being tempted to touch the various valves and ports on the equipment," remarks brewery employee, Tim Hemmelgarn.  "The rugged, stable and secure dividers provide a barrier while preserving the brewery experience and allows the customers to see all the stainless steel and brewing equipment."
When allowing patrons into food and beverage areas, businesses must adhere to certain food and safety regulations.  The brewery was happy to learn that using the Clear Room Dividers allows them to meet all the regulations without incurring the cost and time constraints of construction, so they were able to open their doors to the public sooner rather than later.
To ensure the proper length of clear walls for the space, the Screenflex sales team recommended connecting the single panel and 3-panel Clear Room Dividers together using the Multi-Unit Connector to create the exact length needed.  As an added benefit, the brewmaster can write notes on the Clear Dividers throughout the brewing process.  "Flex is the right word when describing Screenflex Room Dividers," adds Tim.  "We are super happy with the quality of our Clear Room Divider and the flexibility it provides in our brewing/tasting space."
People who read this article, also enjoyed:
Room Dividers
Partition Walls