St. Francis De Sales Uses Room Dividers To Help With Their Growing Ministries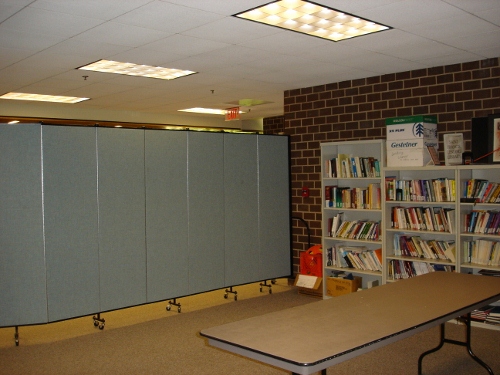 St. Francis De Sales has used room dividers for almost a decade.   They have over 60 different ministries to offer to families throughout the Lake Zurich and surrounding areas.   The ability to turn their two large spaces into several smaller spaces and back to the large spaces again has been very important to accommodate all the ministries that share the building.   With that said, no wonder there is a huge need for room dividers.
When I started gathering up information for my post, I decided to take a ride out to St. Francis to see how they were using our room dividers.  I was surprised to see how many room dividers they used and the many groups that use them.
St. Francis De Sales was organized as a parish in 1949 by the Archdiocese of Chicago.  The very first mass took place in the Ela Town Hall in 1948.  Ninety-seven families attended.  One year after the first mass, St. Francis moved their church to a new facility on Buesching Rd.  The church continued to grow and in 1955 St.Francis De Sales broke ground on their Catholic School.  In the 80's a new church was built with seating for up to 900 people.  The St. Francis De Sales church with continued growth now serves over 4,250 families through 60 plus ministries.
Many different ministries hold meetings, classes, and seminars in the St. Francis ministry building.  The basement of St. Francis is a 3,000 sq. ft. area, consisting of two large rooms. Perhaps you didn't know this but this is where the old Ela Area Library resided for over 10 years.
Since 2002 many meetings have been held in the basement of St. Francis.  Many room dividers are set up to suit the needs of each specific meeting.  Several different ministries may share the space at the same time.  Room dividers are set up to separate and absorb sound.  Here are some of the many ministries and meetings that share the facility between room dividers:
St. Francis holds religious education in the basement of the ministry building.  Several separate classrooms are arranged with the use of room dividers.
Kits Sports Center and Ela Soccer Club hold their pre-season coaches meetings in the ministry basement.
Special needs kids meet and may need to be broken up into groups.  The dividers create several rooms and provide patient privacy.
The employment ministry gives free training to those looking for jobs.
Room dividers are used for bible studies.
The youth ministry kids are separated into several classrooms.
Prayer groups need to be divided up into smaller groups.
The Lake Zurich School District uses the facility for registration.
A women's support group holds classes and events.
Room dividers make it possible to place classrooms or meeting rooms where you need them.  Partitions offer unlimited possibilities.