Streamlining Tax Services Through Portable Partitions
Tax Day is almost here, meaning 36.8% of Americans are seeking professional assistance for filing their personal income taxes. It can be hard to manage the flow of clients during the busy season, especially when doing pop-up tax services in public places such as supermarkets, libraries, and local government offices. Using a portable partition is a quick, easy and convenient fix to help manage client flow while also ensuring client privacy.
Using Screenflex Freestanding Partitions
Getting your divider to and from your tax preparation site is a streamlined process thanks to the accordion-style fold of Screenflex partitions. Once at your location, your wheeled divider easily rolls into your space and through any door. After you meet with your last client, the divider folds back into its accordion shape in a matter of seconds making takedown painless.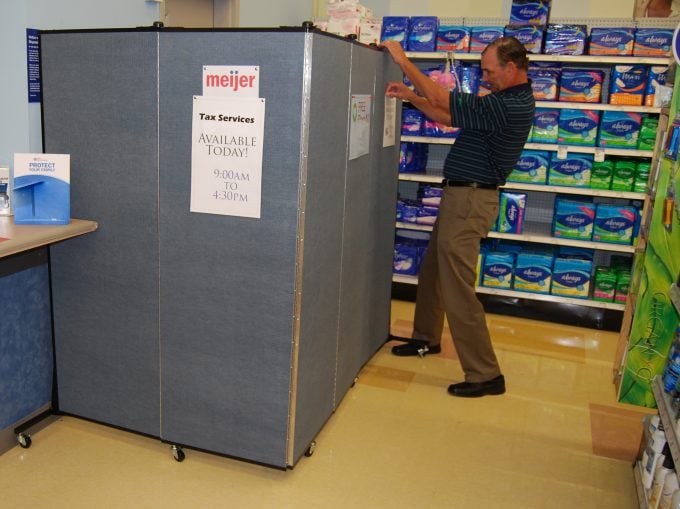 Screenflex portable partitions come in a variety of sizes and colors which makes them fully customizable to fit your firm's brand. For an extra professional touch, you can also have your firm logo printed on your dividers to help market your firm to those passing by and create brand recognition. Screenflex dividers are also tackable, making hanging directional signs for clients a breeze. The partitions are also fully shapeable, meaning you can create an office space by hinging the dividers into a U-shape or square. The end panels of each divider can also function as an office door, as each panel is attached to its own full-length hinge. Once clients enter the makeshift office space their privacy is protected through the sound-absorbing design of Screenflex dividers, so all personal and financial information can be shared in full confidence.
Preparing taxes is no easy task, but serving clients doesn't have to be. Screenflex portable partitions are changing the way that tax services firms can serve clients, by meeting clients where they are while also maintaining a private and personable environment.
People who read this article, also enjoyed:
Room Dividers
Partition Walls