Versatile Patient Privacy Screens
As busy consumers look for flexibility along with more immediate access to health care, urgent care and walk-in pharmacy clinics are often the norm for where Americans receive their basic care.  Stopping in for a flu shot or check-up, along with a gallon of milk on your commute home from work, is now an everyday occurrence.  And because of their convenience, these facilities are often inundated during the cold and flu season with patients seeking flu shots and medications.
Overcrowded waiting rooms and close conditions can create an unhealthy environment, but more importantly, it can lead to inadvertent breaches in patient privacy and confidentiality.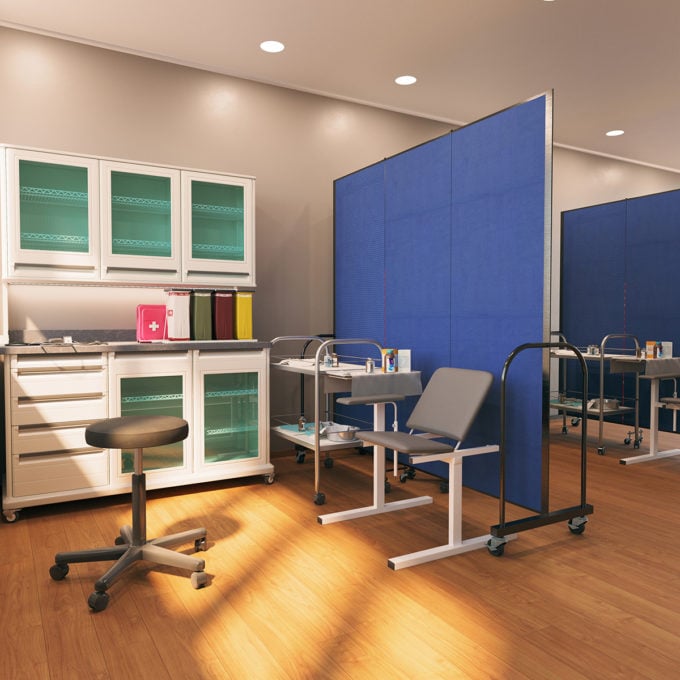 Health care facilities are using Screenflex Privacy Screens in order to assist providers with:
Maintaining patient privacy during the intake, triage or immunization process
Creating confidential consultation areas
Reducing the spread of infectious diseases with the use of fabric panel surfaces treated with antimicrobial agents
Providing additional display surfaces for hanging important health notices, information on medical services, and hours
Allowing facilities the ability to position the portable walls to create temporary rooms within an existing floor plan
Storing compactly when not in use
Urgent care and pharmacy clinics use Screenflex privacy screens, not only to create additional triage areas, but also as a sound barrier to prevent potential breaches of patient privacy.  Using a sound-absorbing privacy screen ensures that patient/staff interaction at the pharmacy counter, conversations in areas designated for patient counseling, or information disclosed during registration or treatment, meet HIPAA's privacy requirements.  Portable privacy screens, along with basic training on the importance of controlling voice levels and shielding patient information from view, help ensure the privacy of such, for both patients and staff.
"The Room Divider gives both me and the patient privacy.  We roll it into place every morning and close it up at night."  Deborah Moorman – Pharmacist, Meijer's.
People who read this article, also enjoyed:
Room Dividers
Partition Walls