There is a New Kid in Town
Being the new kid is never easy.  Whether it's the first day at a new school, moving to a new city or starting a new job, at some time we've all faced the dreaded First Day.  Often, the anticipation and 'what if' can be overwhelming, especially for children.  Experts offer a plethora of advice on tackling those first day jitters and making your transition as smooth as possible.
NEW SCHOOL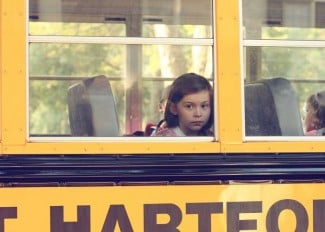 Moving can prove a very exciting time for your family, but under the surface, it might be quite stressful for your child. If you've recently moved and your child will be attending a new school, a few simple steps by parents can make that transition easier on the first day, and then later as the school year progresses.
Look at the school's website and calendar.  Make note of and attend important school events taking place before the start of the school year such as Meet the Principal Day.  If your school allows students to walk their schedule or meet their new teacher, make sure you take advantage of the opportunity.
Look at pictures on the school's website.  Being able to see pictures of their new school and teacher can go a long way toward alleviating your child's fears.
Help your child become engaged in your new neighborhood.  Visit places where you are likely to meet other children from your school, such as the children's area of your library, the playground, or ice cream shop.
Embrace new activities and experiences.  Seek out activities attended by the children from your school such as Scouting programs, park district classes, church youth programs, and camps.  Just be careful not to throw your child into too many new activities at one time.
Throw a party and invite classmates.  A few weeks after school begins, throw a low-key get together and invite classmates and parents.  This is also a great way for you to learn about the area and make new friends.
NEW CITY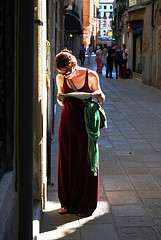 Being in new to a city can end up being a pretty lonely experience… if you let it.  Stepping out of your comfort zone is incredibly difficult, and as tempting as it might be to stay in and watch reruns of Downton Abbey, getting out and exploring your new city might just be the best thing you could do for yourself.  A good way to start is to make a plan:
Get to know your surroundings before you arrive.  Depending on the size of your new city, call or visit the websites of the chamber of commerce or city government and find out which utilities service your area, the nearest grocery stores and shopping centers, and available recreation facilities.
  Find what moves you.  Search the websites of your local community college or library to see if they offer any low-cost or free programs you might be interested in attending.  When you're there, look for people your age and sit near them.
Find a local coffee shop and just hang out with the Sunday paper or your laptop.  Soon, you'll establish yourself as a regular, which will allow you more opportunities for conversation and socializing.
 Friendships are just a click away.  Seek out activities you're interested in and surround yourself with people who share your passions.  Look up the local alumni chapter from your college or university.  Alumni groups usually sponsor events you can attend and the nice thing is, you will instantly have something in common with those attending.  Another great outlet is online sites such as Meetup.com, which make it easy to meet new people by joining groups that cater to your interests, marital status, and age group.
Don't leave your past behind you.  Invite friends and family from home to visit you in your new city and set a date.  Use that date as a goal to find fun activities and unique facts about your new hometown.
NEW JOB
Starting a new job means not only meeting your new coworkers and settling into your surroundings but absorbing and fitting into a whole new office culture.  The size of your company and type of industry will often dictate what type of orientation you receive.  Larger companies tend to have a more formal, structured program, often called 'Onboarding', where a smaller business might have you working with another employee for a few days while they show you your job duties.  If your company doesn't have a formal orientation program, it's critical that you take responsibility and make your own 'Onboarding' plan.  Not only will this help you to assimilate more quickly, but it shows initiative, and says a lot about your ability to handle tough situations.
Contact your employer before your first day.   Experts suggest that if time allows, call or email your new boss or Human Resources contact and ask about what to expect during your first days on the job, and if there is anything you can do to prepare for your first week.   Offer to come in before your first day to tackle any administrative paperwork.
Seek out a mentor.  During your first weeks, find someone with more experience who can help you with learning the ropes of your job and the culture of the company.
Do more listening than talking.  Focus on learning your job functions, and tempting as it might be, don't try to change too many things on the first day, week, or month.  The same goes for being late, negative or a know-it-all.  Trust me, your coworkers will thank you later!
Make observations and be mindful of office etiquette.  Finding the coffee maker is important, but just as crucial is figuring out where you fall in the company's pecking order.  Review the organization chart and ask questions so you can learn who the key players are at your new office.
Try to fit in and make sure you take part in after work social activities.  When I started working at Screenflex, I made sure I brought some pictures and items to personalize my office, including my gigantic coffee mug.  These things allow people to see your human side and shows you're willing to be part of the team.  If after a few weeks go by and you're not being invited out for social activities,  take the reins and suggest an after work get together.  Putting yourself out there is risky, but like your parents always told you, you'll never know until you try!
PAY IT FORWARD
Finding your way in your new job, city or school is always easier when you're willing to advocate for yourself.  Making the effort to prepare yourself ahead of time, observing what others are doing, and asking questions or seeking out help or resources will help your transition.  In most instances, people are more than willing to give advice and share their knowledge, but they don't know you need help unless you ask.  Finally, don't forget to pay it forward the next time you come across someone new in your school, workplace or city.  Pass on your best advice for them so they can get over the "new kid" hump and get on with enjoying their new surroundings.
Have you ever been a 'New Kid", and what advice would you give to someone in one of these situations?
People who read this article, also enjoyed:
Room Dividers
Partition Walls