Innovative Room Divider Uses For Your Facility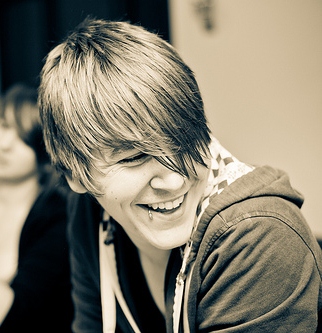 If you are looking for a comprehensive room divider that covers the whole shebang, try using Screenflex. Bethel University purchased 2 of the five-panel Standard portable partitions to use in the gym, backstage in the concert hall, cafeteria, in classrooms, and at various parties to work out some of their room dividing needs.
Bethel University in St. Paul, Minnesota provides a Christian higher education for about 6,000 students this year from 36 countries enrolled in undergraduate, graduate and seminary school and has educated students since 1871.
Explore the ways Bethel University has used Screenflex Room Dividers over the years…
Have you heard the 75-voice campus choir perform?  The Bethel Choir is part of the university's performing arts program and has performed here in the States and throughout Europe and Scandinavia. Screenflex portable walls are set up for the students as dressing rooms for various concerts throughout the year. You can check out Bethel's choir performances on YouTube.
Middle school band, orchestra, St Paul's Orchestra and Bethel's own choir all use temporary rooms which are created with Screenflex portable walls providing waiting rooms for the performers before curtain call.
St. Paul's Orchestra performs four times a year in Bethel's concert hall. The Christmas Festival of Lights performed 4 sold out shows which sat 1500 spectators. Temporary rooms created with dividers provide the privacy needed for performers in a busy concert hall.
At one of the fundraisers that Bethel hosts, which raised a generous amount of money for the Children's Shelter Cebu Orphanage in the Philippines, required the use of Screenflex screens during their event. The party took place in Bethel's gymnasium. While room dividers easily concealed food and the chefs who were busy at work, attendees enjoyed a nice meal without distractions. Chefs needed to serve their guest's meals closer to the event to keep food hot. This meaningful dinner took place in the large gymnasium and with the number of guests attending hosts wanted to bring the kitchen into the gymnasium to make serving simpler.  A kitchen area was created in the gym to make sure hot meals and with Screenflex dividers set up to form a separate kitchen area kept unsightly dishes and warming trays invisible to guests.  Screenflex dividers kept the "kitchen" out of sight.
Dividers have been used as message boards for staff and students. Panels are tackable and can be used for displaying almost anything. Message boards are a great way to find jobs, post jobs or advertise something.
ACDA celebrated their 100 year Anniversary in November and 400 guests attended this glorious event in the Bethel concert hall and gymnasium. Screenflex dividers were set up to create a relaxing private room for the choir while they waited to perform.
The choir quickly discovered that Screenflex is the perfect solution for hosting large events in any college or university.