Portable Partitions Dividing Space and Built to Last
Hip Hip Hooray! Room Dividers Proven to Hold Up Over Time!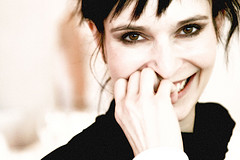 I received a call from a high school librarian in New York, who has used Screenflex for over 15 years. Mike's first experience with Screenflex was when he worked as a librarian in a New York elementary school. He has been very happy with the product over the years and explained to me how often the school staff uses the dividers. Used so often in fact, that he finds the staff fighting for their turn to use them. Here is Mike's story:
Around 15 years ago the elementary school where Mike worked needed to solve some dividing and display issues. Wanting to add a classroom, display student's artwork and create work/study areas, Mike got the approval to purchase 2 Screenflex Room Dividers. He was very impressed that the dividers not only did the job intended but was also very sturdy. As an art display, the divider holds more artwork than he thought it would. The dividers worked so well for teachers and staff that he eventually lost the dividers to teachers and various other needs around the school.
To Mike's good fortune, the library was in dire need of providing an enclosed testing space for the students. Mike put in his request and thankfully got an approval to receive two more dividers. Not only do teachers like the private room to block distractions during test taking or work time, but the dividers help to absorb sound from kids coming in and out of the library.
When Mike moved to the high school this past year, he was able to take one of his room dividers with him to Marcellus.  He took a 7′ 4″x 16′ 9″ divider with 9 panels to his new school. The divider is used daily. He sets them up to divide space for testing, to display artwork and uses them when vendors come in to give a place for them to meet.  Mike and the staff also use Screenflex to create rooms in the gymnasium for luncheons and other functions. Because of the constant dividing needs of the school, Mike hopes to add two more dividers when the budget allows.
Mike Brown shares:

A good product doesn't need an explanation. It speaks for itself. The dividers are amazing.  I'm also impressed with the amount of art work that can be displayed on the panels.  The dividers accepts tacks and push pins to display artwork easily. I use them every day. Best thing in the Universe! My dividers are 12-15 years old and they keep going and going.
Build your own room divider. Share your favorite Screenflex room divider size, length, and color…