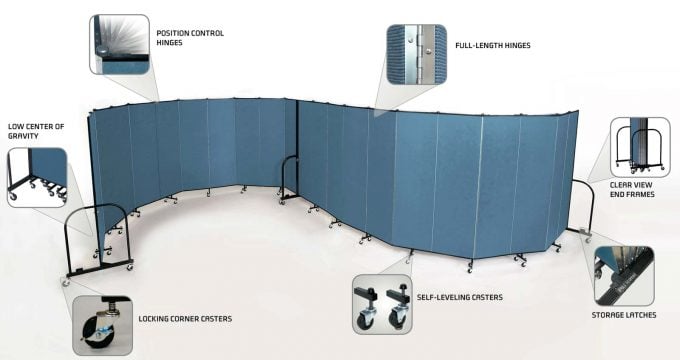 At Screenflex, quality and safety are of the utmost importance and serve as our guiding factor to deliver products that are safe, reliable and the preferred customer choice.  These principles drive Screenflex to adhere to top product safety and quality guidelines and procedures throughout the entire buying and manufacturing process.  We do this through our passion for superior service, operational excellence, innovation, and product improvements.
Our commitment to excellence and unmatched safety include:
Develop and market products that are manufactured and used safely as directed
Unique steel end supports lower the unit's center of gravity making it extremely stable. This design also allows for clear sight lines when moving the divider
Full-length piano hinges connect panels every 4" vertically, resulting in superior strength and stability without gaps between panels
Screenflex products are manufactured under U.S. Patents including US 6,892,784 "Stabilized Portable Room Divider"
The entire finished product (fabric 

and

 panel core) is fire rated under the ASTME 84 tests
Screenflex units are approved for use by our federal government via GSA contract number GS-28F-0044V
Constructed using non-toxic materials and finishes
Dedicated teams monitor the quality of the products, three different times, throughout production.
Continually improve products, packaging, labeling, and instructions
No loose parts
Locking casters secure dividers in place
For a list of happy Screenflex customers in your neighborhood, please call us at 800-553-0110.