Employee Highlight: Robin
Q: What is your role at Screenflex?
A: I am the Customer Service Manager
Q: What does a typical day at Screenflex entail for you?
A: I handle any calls or emails from customers or dealers related to orders after they have left the factory.  Questions range from freight rates, tracking information, replacement parts, copies of documents, and any technical information a customer requires.
Q: How long have you worked at Screenflex?
A: I will be here for 20 years in June. (WOW!!!)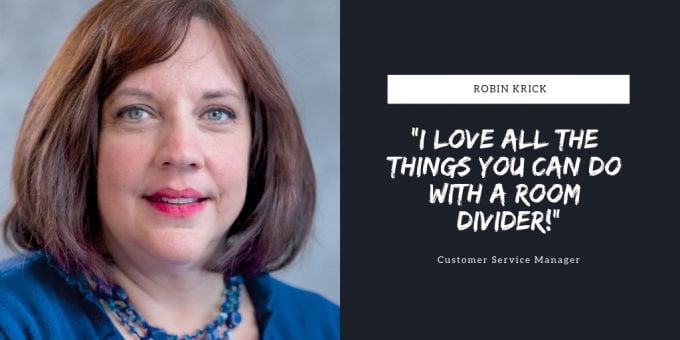 Q: What has been your favorite project at Screenflex?
A: Taking photos of all the employees to put on the board in our lunchroom. (This board helps us learn more about each other.)
Q: If you could pick one theme for Screenflex to turn into a book about the company, what would it be?
A: How many different uses there are to use the room divider. (There are just so many uses we lose track.)
Q: Any favorite line from a movie?
A: "You're killing me Smalls" ~ Sandlot (Would never have guessed this!)
Q: Least favorite food?
A: Seaweed Chips (The lunch table can agree with this!)
Q: What are your hobbies?
A: Quilting, sewing, and painting.  Basically anything creative.
Q:  Motto or personal mantra?
A: "Life is not about waiting for storms to pass…it's about learning how to dance in the rain."
Q: Three words to best describe you:
A: Friendly, creative and caring
People who read this article, also enjoyed:
Room Dividers
Partition Walls